Cross Stitch, Needlecraft and Embroidery Patterns from Jemini Designs

Graduate Keepsake
cross-stitch pattern by Jemini Designs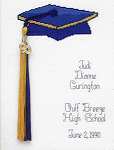 A simple mortar board design with letter and number sets to design a personal commemorative sampler.

approx. 15 cm (W) X 23 cm (H) (6 X 9 in)
Only $6.50 with
free shipping
Buy Now ...
Graduate Keepsake
$6.50
Add to Cart
Immediate despatch
Counted Cross Stitch, Blackwork and Embroidery Designs, Patterns, Charts, and Leaflets
Find your next project
in an exclusive collection of counted cross stitch charts and leaflets, blackwork patterns and embroidery designs.
Free delivery worldwide on all patterns
Huge discounts - compare our prices and save
Order securely online by credit/debit card
---
---
If you want to keep up
with what's happening in cross stitch patterns, or you are interested in a particular designer or subject, why not
Register for our free newsletter
featuring new additions, freebies, articles, events ...
You can tailor your requirements so you receive information only when we add new items that interest you.
---
What's In A Chart?
Most cross stitch patterns are supplied on paper in
booklet
or
leaflet
form; some charts come as
chart packs
- individual sheets in a display bag and these can be convenient as you can work from a single sheet easily attached to your chart holder. These types of chart are delivered by airmail to you if you live outside the UK.
Many people now download their cross stitch patterns direct to their own home computer. This has the advantage of not having to wait for the mail and giving you a chart that can be magnified on your screen without loss of clarity. You can print out your chart on your own printer page by page as you work through it.
If you'd like to try downloading a free chart for yourself ...
Click here for a FREE sample to try for yourself!

---
Profile - Jemini Designs
Jeanette Rees
started
Jemini Designs
with four Pillow Gram designs in 1990 and has continued to design since then.
Since opening Needle Delights in 1992, she has concentrated on local area designs and has had an ornament design in the annual Just CrossStitch Ornament magazines. Jeanette designs canvaswork teaching pieces and is available to teach workshops and at seminars. She has just released 8 new Halloween designs.
We found her designs simple but effective and since her patterns are mostly commemorative, they make ideal pieces for beginners.
---