Papercraft from Colorbok

Christmas Page Kit 12"x12"
paper craft kits and album kits by Colorbok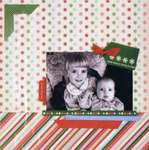 This Colorbok Perfect Page Kit is full of unique embellishments as well as the standard patterned papers, stickers, rub-ons and more.

Create gorgeous Christmas-themed layouts with ease!

approx. 32 cm (W) X 32 cm (H) (13 X 13 in)
Our Price $12.00
(20% off List Price!)
Buy Now ...
Christmas Page Kit 12"x12"
$12.00
Add to Cart
Immediate despatch
Welcome to the World of Paper Craft
Welcome
to the increasingly popular pastime of
Paper Crafting
!
Whether you are interested in scrapbooking, card-making or any other paper craft, you will find a wide range of exciting paper craft supplies at very low prices!
Why choose Arts and Designs?
Genuine, branded products - you can be assured of quality
Low prices - permanently
Stock Items - immediate despatch means less waiting
Find Your Papercraft Items ...
+ Adhesives
+ Blank Cards and Envelopes
+ Buttons and Brads
+ Embellishments
+ Embossing
+ Inks
+ Paper Craft Kits
+ Ribbons
+ Stamps
Be creative! Be Adventurous!
Paper craft items come in a bewildering array of colours and sizes - your creativity and time is all that's needed to bring them together to create stunning projects!
And we have lots of friendly advice to help you along the way.
---
Arts and Designs
is a great source for your paper craft supplies - you're just a few clicks away from all you'll need for your next great project.
We supply paper craft products - kits and albums, paper, blank cards, adhesives, stamps, inks, embossing materials, embellishments, ribbons, buttons and brads - to crafters all over the world.
---
Register for our free newsletter ...
and receive news on new products, ideas and articles - tailored to your own requirements.