Cross Stitch, Needlecraft and Embroidery Patterns from Diane Graebner

Hello Mr. Snowman
cross-stitch pattern by Diane Graebner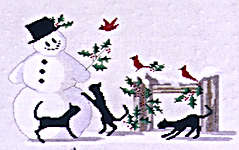 An attractive Christmas picture of a snowman with black cats, red cardinals and lots of holly.

approx. 33 cm (W) X 22 cm (H) (13 X 8 in)
Only $8.50 with
free shipping
Buy Now ...
Hello Mr. Snowman
$8.50
Add to Cart
Immediate despatch
Counted Cross Stitch, Blackwork and Embroidery Designs, Patterns, Charts, and Leaflets
Find your next project
in an exclusive collection of counted cross stitch charts and leaflets, blackwork patterns and embroidery designs.
Free delivery worldwide on all patterns
Huge discounts - compare our prices and save
Order securely online by credit/debit card
---
---
If you want to keep up
with what's happening in cross stitch patterns, or you are interested in a particular designer or subject, why not
Register for our free newsletter
featuring new additions, freebies, articles, events ...
You can tailor your requirements so you receive information only when we add new items that interest you.
---
What's In A Chart?
Most cross stitch patterns are supplied on paper in
booklet
or
leaflet
form; some charts come as
chart packs
- individual sheets in a display bag and these can be convenient as you can work from a single sheet easily attached to your chart holder. These types of chart are delivered by airmail to you if you live outside the UK.
Many people now download their cross stitch patterns direct to their own home computer. This has the advantage of not having to wait for the mail and giving you a chart that can be magnified on your screen without loss of clarity. You can print out your chart on your own printer page by page as you work through it.
If you'd like to try downloading a free chart for yourself ...
Click here for a FREE sample to try for yourself!

---
Profile - Diane Graebner
Whether it is the sight of a family building snowmen during the Christmas season, a boy carrying a pair of lambs, or a small girl admiring a flight of butterflies, the joy found in artist
Diane Graebner's
paintings is contagious. A tiny flame is kindled deep inside the soul, sparked by the familiarity found in the views of everyday life her images portray and before you know it, the smile on your face is as bright and warm as a ray of summer sunshine.
Diane is best known for prints which depict the lifestyle of the Amish people where she lived in Ohio. However she finds inspiration everywhere Her love of nature has played a big part in her artwork recently since her move to Utah. Diane constantly observes and paints the world around her.
---