Needlecraft Supplies and Accessories from Thea Gouverneur

Cushion Back
fabric by Thea Gouverneur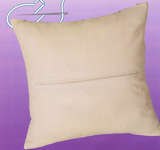 A cushion back to fit all Thea Gouverneur 40 x 40 cms cushion kits.
Buy Now ...
40 x 40 cms ecru
023.5999
$15.11
Add to Cart
Immediate Despatch
Needlecraft Supplies and Accessories from Thea Gouverneur
Be properly equipped
- choose from a large range of useful and essential items to make your stitching experience even more pleasurable.
The right fabric, needles, scissors, hoops, frames, magnifiers, daylight lamps and other useful little tools all help to make your craft more enjoyable and successful.
---
Find Supplies and Accessories ...
+ Daylight Lamps
+ Fabric

+ Aida
+ Chintz
+ Evenweave
+ Plastic Canvas
+ Table Linen
+ Towels and Bibs

+ Frames
+ Hangers

+ Bellpull Hangers
+ Deco Hangers

+ Key Rings
+ Magnifiers and Spectacles
+ Needles

+ Bead Embroidery
+ Chenille
+ Darners
+ Embroidery/Crewel
+ Gold
+ Leather/Glovers
+ Machine
+ Milliners
+ Pebble Packs
+ Quilting
+ Sharps
+ Silk Ribbon Embroidery
+ Tapestry and Cross Stitch
+ Threaders

+ Scissors
+ Stands
+ Thread/Floss
+ Tools

+ Bobbins
+ Craft Bags
+ Double Sided Tape
+ Magnetic
+ Rulers
+ Stitch Picker
+ Thread Organisers
Most recently added supplies and accessories
Other Sections ...
---
Profile - Thea Gouverneur
Thea Gouverneur
is one of the leading cross stitch designers in Europe. Her designs and kits are sold throughout the world. She runs her own company from her home in the Netherlands.
Well known for her flower designs she has published several books and those designs can be found as kits in her collection.
She also has other ranges, samplers, sports, culture, animals, birds and children.
Her most recent cross stitch designs include butterflies with flowers and large scale collages of major European cities: Amsterdam, London and St. Petersburg.
---
Having the right equipment
will make your needlecraft a lot easier and much more fun.
The traditional image is of the embroideress holding a hoop in one hand while stitching with the other. Many people still work this way but many others prefer to have their workpiece held for them. This allows them to use other aids such as magnifiers (very useful for older eyes!).
Seat stands are also popular being portable and easy to set up and take down. Some of the larger floor stands allow lamps and magnifiers to be attached to them, as well as holding your workpiece for you.
A daylight lamp can help you match colours correctly at night or in poor light as well as providing good light to stitch by. If you stitch at a club you might consider a portable daylight lamp - either mains or battery/mains. The mains-only versions are lighter and cheaper but don't give you complete freedom on where you use them.
When your work is finished, you will want to show it off to its best effect! If it's a wall hanging then you can choose between traditional metal hangers or bellpulls and modern deco hangers.
Whatever you're stitching and however you work, the tools you use are very personal and we will be happy to advise you on the advantages or otherwise of any of them.