August - Be Creative, Extrovert, Enthusiatic and Generous
Welcome to August - the month of Leo and Virgo. Leos are apparently enthusiatic, creative and generous; Virgos are conscientious and reliable. Of course, a stitcher needs all these personality traits - as well as a good deal of patience!

We have a new series of kits from Design Works - Imagine, Hope, Dream, and Believe. Each has the word decorated with doves, butterflies, fairies and a unicorn and have lots of glitter. Small and quick to work, why not collect the set?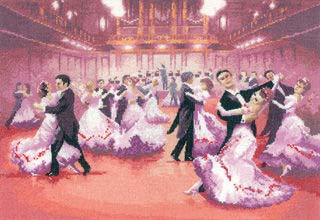 John Clayton's newest design is called Grand Ball with an elegant room full of ladies in pink gowns and gentlemen in tailcoats. The kit by Heritage Crafts is available in 28 count evenweave and 14 count Aida.

A pretty little mobile Little Friends Mobile Animals is new from Rico Design for the nursery. It comes with all you need to quickly make a baby present that's different from the norm.

We are no longer providing a complimentary floss conversion chart with every pattern or leaflet. The complete conversion chart is now available to download free for your convenience. As always it is best not to rely completely on these charts but only to use them as a guide. Working in good light, your eyes are the best tools for choosing equivalent colours.

This month we're featuring teddy bears in Kits, Patterns and Books. Many of course are for baby but there are one or two surprises. There are also some interesting ideas in a few of our pre-owned books.

We hope your August turns out to be creative and generous - but mainly we hope it turns out to be sunny!
by Arts and Designs on Sat, 06 Aug 2011, 06:51