We hope you enjoyed your Christmas and New Year celebrations. We resolved to make no New Year Resolutions - so we broke one even before we got started.
This month ...
Mirabilia old and new
Mill Hill patterns
Christmas Eve Couriers
Tatty Teddy
The Nature of Monkey
What's in Store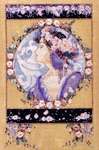 Mirabilia old and new
Gypsy Queen
is the latest pattern from
Mirabilia
and features a very colourful lady. We have already sold out once but
reinforcements have now arrived
! We also have the embellishment pack in stock and this can save you a lot of time looking for the bits'n'bobs. We have also found some timeless older Mirabilia patterns which we had missed before.
English Roses
in the Art Nouveau style is particularly attractive.
Mill Hill Patterns
Mill Hil
l don't only produce beads and treasures. They also have a collection of attractive patterns which use them. We have picked a few and will add them to the web site as we collect all the necessary embellishments. Here's the
Forget Me Not Sampler
for starters.
Christmas Eve Couriers
Following a customer request, we have the complete set of ten
Christmas Eve Couriers
- all Santa's reindeer and his sleigh - by the amazing
Nora Corbett
. There's an embellishment pack available for each pattern, too.
Tatty Teddy
We have lots of new
Tatty Teddy kits from DMC
with the popular little bear and Tiny Tatty Teddy busy getting up to mischief.
DMC
have improved their charts by providing an extra large black and white chart showing only the cross stitching and a separate colour sheet showing the added backstitch superimposed.
The Nature of Monkey
Chinese New Year, the Year of the Monkey, begins on the 8th February. Anyone born this year is supposed to be adaptable, lucky, charming and bright. Not me, then.
To celebrate, Anne has designed a Chinese knot cross stitch pattern in traditional red which we are offering free to download for the next month. Visit
http://www.artsanddesigns.com/cgi-bin/viewDetails.pl?catnumber=1501445194
and get your free copy!
What's in Store
Easter comes early this year which makes Mothering Sunday early too, on March 6th (in the UK). If you are wondering what to get for the mother who already has everything, why not consider making a personalised embroidery?
We may not have fairies at the bottom of our garden but we do have a few at half price in our
Bargain Basement
. Don't forget to check it out!
January tends to be a quiet month for new products but the trade shows are on the horizon and lots of designers are very busy getting their new kits and designs ready. It will all change by next month!
And finally ...
Let's hope this year lives up to its promise - bright, lively and fun. As the 1970s TV series had it:
"In the worlds before Monkey, primal chaos reigned. Heaven sought order, but the phoenix can fly only when its feathers are grown. The four worlds formed again and yet again, as endless aeons wheeled and passed. Time and the pure essences of Heaven, the moistures of the Earth, and the powers of the Sun and the Moon all worked upon a certain rock - old as creation, and it magically became fertile. Elemental forces caused the egg to hatch. From it there came a stone monkey. The nature of Monkey was ... irrepressible!"
From
Wu Cheng En, Journey to the West, translated by David Weir