Damask Square by Ink Circles
I love these symmetrical designs and the subtle shading in DMC Color Variations 4150 Desert Sand. I decided this would be a quick project and chose Permin 32 count CL065/95 Milk Chocolate which comes 46 cms square so that the pattern would be in the centre and it would be an ideal match for our damask cushion sofa.

I did realise the pattern has nearly 5000 stitches but of course all whole cross stitch and no colour change. I didn't allow for my failing eyesight and stitching on darker fabric and after my first enthusiasm, I put the embroidery on the back burner.

Eventually I brought it back out again to stitch on brighter days and although far from neat stitching I reached the end.

The backing fabric matches the sofas and to me it cried out for a lace edging. I looked out a knitted lace edge in an out of print book which belonged to my grandmother and knitted that in cream no. 20 crochet cotton. ( See pattern below)

My mother always says that I can do anything with a needle but sew, so there was another long pause while I considered how to complete the cushion cover but when I could ignore it no longer, I got it back out and completed the cushion.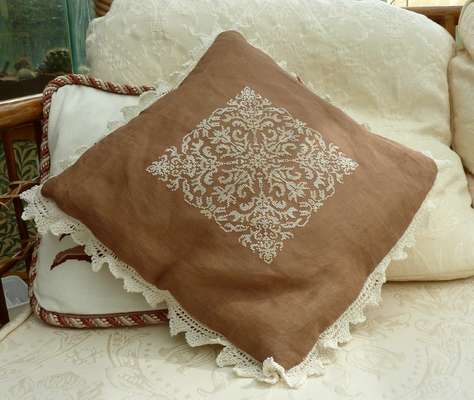 The finished article looks lovely in our conservatory where nobody will examine it closely. I can't fault the Ink Circles pattern at all but will be more careful on my choice of fabric count and colour in the future.

Download the knitted lace edging pattern here.
by Anne Peden on Wed, 25 Jul 2018, 08:11
Mirror Case by Eva Rosenstand
I decided to stitch this handbag mirror for a small present.

The mirror and pouch look very classy. The design has some space in the centre so I added a monogram to personalise it for my friend.

The kit comes with a small square of 18 count Aida and so had to be stitched without a frame but is stiff enough to hold its shape. There was ample floss left over to stitch a letter.

The whole project could be worked in an evening.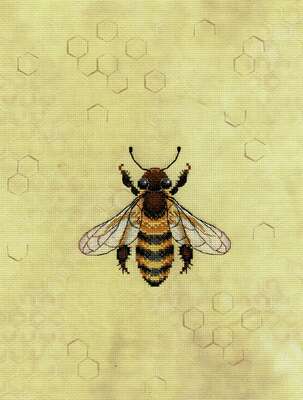 by Anne Peden on Thu, 26 Apr 2018, 10:27
Snowberries by Haandarbejdets Fremme
This is an Assisi style design with the background stitched and the leaves and berries unstitched.

I hadn't used Danish Flower Thread and it seems very fine for cross stitch. However it covers the 32 count linen in the kit quite well.

The pattern is fairly simply but some of the backstitch is quite tricky. Some stitches are worked over two threads in one direction and only one in the other which of course gives smoother lines especially since the berries are round.

The finished design is quite striking and there was a whole skein unused. I'm going to mount it in a circular flexihoop and hang it at our conservatory window.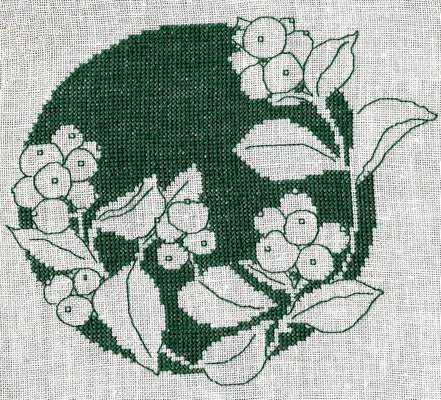 by Anne Peden on Mon, 13 Nov 2017, 17:00
Review of Koi Carp by Needleart World
These kits are from the Grafitec company who produce traditional screen printed needlepoint canvases.

We visited their stand at a trade fair where they were introducing their new cross stitch kits which have the design printed directly onto the fabric. After stitching that is completely washed away.

I was intrigued and decided to try one out. I was perhaps a bit ambitious in my choice of Koi Carp which is stitched on 11 count canvas and has a finished size of 67 by 57 centimetres (26 by 22 inches). Aida isn't my preferred fabric and I would normally have gone for 14 count but I did like the design which also has a printed background.

The floss comes on numbered cards and needs to be halved in length and split into two lots of three strands to be used. The printing is exactly as the company claims, accurately printed on each block so unlike printed needlepoint canvas there are no decisions to be made and I cartainly preferred the precision. I find printed needlepoint pictures unsatisfactory.

This design has twenty-eight colours so the key doesn't just have only coloured squares, it has some with symbols on top. I found some of these a bit too similar to identify and did sometimes refer to the full colour chart which is more traditional with black symbols on the actual shade of the floss. In fact at one point I did stitch a bit in the wrong colour before referring to the picture and then the chart. This may not apply with smaller designs or those with fewer colours of floss.

I was aware throughout that I would be washing the finished embroidery so made the starting and finishing lengths of thread longer than normal but there was still ample floss left over.

Finally, I completed the stitching and reached the exciting bit where I washed out the stitching grid. As suggested I washed twice and rinsed thoroughly and yes, everything disappeared, except of course the background and faint remnants of the key.

The first Needleart World catalogue has 52 designs ranging in size from 12 centimetres square to 85 by 62 centimetres with some on 14 count Aida and some on 11 count Aida so there are a limited number of designs. But if you find a design you like and are happy to work on Aida, I could certainly recommend them.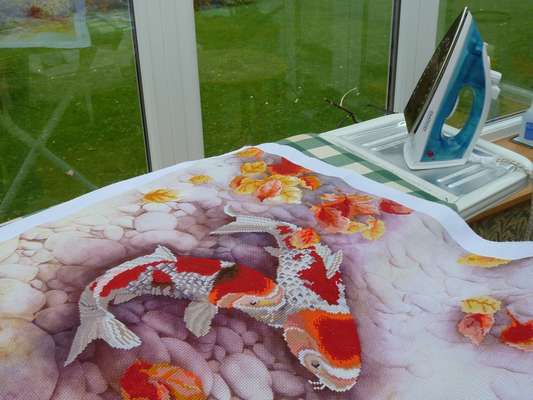 by Anne Peden on Tue, 07 Nov 2017, 19:44
Review of Grafitec Needlepoint Canvas
Grafitec canvases are screen printed in full colour. They give three options for floss DMC stranded cottons, DMC soft embroidery cottons and DMC tapestry wools.

I chose a small canvas 'Autumn' and DMC stranded cottons. The instructions do say that the floss recommendations are only a guide and as the colour given for the sky was more lilac than sky blue, I changed it for another shade but used their suggestions for all the other colours used.

The design is intended to be worked completely in half cross stitch but since there is a fence in the picture, I felt that it would be difficult to reproduce in half cross stitch. So I decided to add backstitch after the half cross stitch was completed using three strands of cotton. Of course once the half cross stitch is finished then the details are almost lost so I had to improvise and add some backstitch as I went. Luckily, I was adding straight lines.

It's possible that the problem I encountered only applied because it was a small canvas but I think even larger pictures would also have some small detail which could easily be lost.

I also found it difficult to decide which colours to use on the stitches on the boundary between but I'm sure practiced needlepoint stitchers don't find this a problem. Perhaps I'm looking at it as a cross stitcher.

The stranded cottons have a nice finish although light still shines through the canvas. Next I'm going to stitch another of the same canvas in wools to see what the differences are.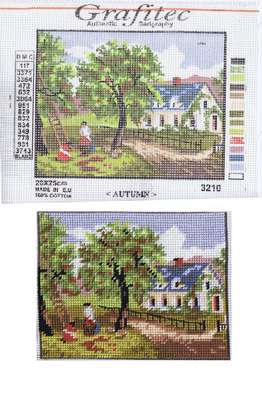 by Anne Peden on Thu, 20 Jul 2017, 15:22
Swedish Weaving
Swedish weaving is also known as huck embroidery or huck weaving and became popular in the US during the 1930s and 40s. It was first used to embellish plain household fabrics like towels, table runners and pillow cases and is now also used smaller projects like pot holders and larger projects such as afghans.

There are various fabric used for this technique Aida, huck toweling and huck fabric but any evenweave fabric may be used.

Huck toweling is 16 to 18 inches wide and is used for towels or runners. Huck fabric is 60 inches wide and suitable for larger projects. Both fabrics should be washed in hot water, dried thoroughly and ironed before use as they will shrink.

Threads used depend on the fabric and can be stranded cottons, pearl cottons or acrylic yarn but not 100% wools.

The stitches are simple and are done by picking up vertical threads called floats on the front of the fabric so that the stitching doesn't show through on the reverse. The stitching is typically worked in rows using lengths of threads two and a half times the width of the fabric to be stitched.

Many designs are worked in a single shade but brighter, more colourful patterns are also available and designs can even be personalised with woven words and letters.

See Swedish Weave Designs for patterns, fabric and kits.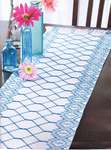 by Anne Peden on Fri, 28 Oct 2016, 18:19
Outline stitches in Blackwork
Until recently I used backstitch to outline areas in blackwork. Then I tried out one of Classic Embroidery's designs The Little Owl and to make it reversible I had to use double running stitch.

I think I won't go back to using backstitch as the finished result with double running stitch is finer. See my illustration with the double running stitch above the backstitch.

I work large areas and the first time round is a bit tricky to keep track but then it's much easier to complete with the intermediate running stitches so probably just as quick to stitch.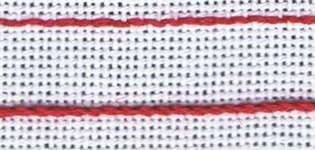 by Anne Peden on Fri, 27 May 2016, 10:27
Golden Crown Mark 2
Having learned from my first attempt at making a dressing-up crown, I decided to make a smaller lighter version.

Still working on 10 count plastic canvas, I stitched the body completely in whole cross stitch using Anchor Metallic gold 300. The edge was finished as before with 1/8 ribbon by Kreinik in 002 gold.

The heart shaped bead came from a pack of three, but it's a bit heavy so instead of using them all I added some sequins in a similar colour.

I sewed turquoise felt on the reverse stitching through by hand with gold sewing machine thread. That made the crown look a bit dull as the gold thread doesn't completely fill the holes in the canvas so I changed it for yellow to make it much brighter.

The princess was finally satisfied (for the moment) although she spent a couple of days dressing as a witch instead.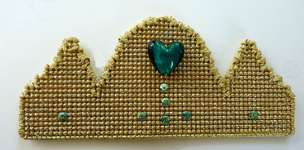 by Anne Peden on Tue, 17 May 2016, 19:59
DMC Coloris
We thought we'd try a design in the exciting new Coloris by DMC.

Since it has radical colour changes rather than subtle, it seemed like it might be suitable for Assisi work. I started with a simple shape of a ladybird with large areas to fill in cross stitch and of course completed both halves of each cross as I went. I decided on 4516 Black Forest and worked on antique white evenweave.

You can see from the right hand side of the finished embroidery that the outcome is rows of colour rather than blotches. It reminded me of knitting in random dyed wool.

I tried a different approach on the left hand side of the ladybird. Rather than starting at the centre which would mean referring to the chart constantly, I stitched the perimeter and then worked inwards following the shape. I think this gives more interesting blobs of colour.

Perhaps if you've tried out this floss you have other ideas? Please let us know.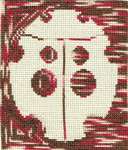 by Anne Peden on Tue, 17 May 2016, 19:54
A Golden Crown
Our three year old granddaughter said ' Gran, I need a crown' . I could have made one out of paper but after a bit of thought I decided on plastic canvas.

It's more of a tiara really with elastic to hold it on. I wanted to use gold metallic threads so I picked 10 mesh and used a mixture of Kreinik flosses. No. 32 covers well in tent stitch but to add interest and texture I also used no. 8 and no. 16.

I wasn't sure whether it would be better to cut the shape first and then embroider or embroider first and cut afterwards. Cutting complicated shapes with a craft knife is a bit tricky as you find you sometimes go too far. In the end I cut one half of the shape and followed the line as I stitched on the other half.

The lower border is stitched in cushion stitch using no.8 in 002 gold. I followed with a row of tent stitch in no.32 002. Then a diagonal stitch over two and satin stitch squares in no. 32 High Lustre 002HL alternating direction to save carrying the floss across the reverse.

I worked two fir stitches also in no. 32 High Lustre 002HL, one each side of the centre. The raw edges were quite sharp and would have caught in the princess's hair. I tried going over them with no. 32 braid but it didn't cover well and then I tried 1/8th ribbon which did work well. I only happened to have that in Aztec gold so felt it should appear on places other than the edge hence the sweeping pattern. I filled in with no.32 002 braid in tent stitch above and no. 16 braid 002 in tent stitch below. Then finished around the edges with the 1/8th ribbon.

The large bead came from an old necklace and I lined the reverse with a similar colour of fabric stitching with gold sewing thread which didn't show on the front.

Having learned from my first attempt, there will possibly be a second smaller version when time permits.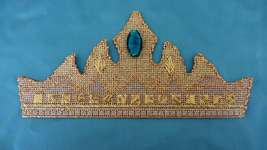 by Anne Peden on Sat, 02 Apr 2016, 17:39
Earlier Stitchcraft Articles ...
Uses & Care for Kreinik Metallic Ribbons ... Applications: crazy quilting (hand and machine), crewel, cross stitch/counted thread, doll making (hand and machine), fly fishing, kids' crafts, machine embroidery/bobbin work, machine embroidery/couching, needlepoint/canvas work, plastic canvas, ribbon embroidery, stumpwork, weaving.
Uses & Care for Kreinik Braids ... Applications depend on the thickness of the braid but include: appliqué (hand and machine), blackwork, costumes, crazy quilting (hand and machine), crewel, crochet, cross stitch/counted thread, doll making (hand and machine), fly fishing, hardanger, kids crafts, knitting (by hand), lace making, machine embroidery/bobbin work, machine embroidery/couching, machine embroidery/in the needle, min
Kreinik Cable ... Applications:
Blending Filament ... Applications :
Transferring designs to fabric for surface embroidery ... We were recently asked how to transfer your own design onto fabric to embroider.
Seasonal Blooms by Brittercup Designs ... I've liked these designs ever since I first saw them so took this opportunity to try Winter.
Witching Hour Ornament by the Prairie Schooler ... This cute design took only a couple of evening to stitch.
Milkweed Butterfly and Flower ... I have stitched some Thea Gouverneur designs before from her two lovely books
Embroidered Table Covers ... Hand stitched printed table covers always look lovely on your dining table.
Rico Design Hooded Baby Towels ... These baby towels make lovely gifts and can be used from birth and for many years.
Easter Rabbit by Eva Rosenstand ... Eva Rosenstand kits are now produced by Permin of Copenhagen and the key and instructions are in the same format as their designs.
Iphone 5 Phone Covers by Anchor. ... This is a quick and easy project worked completely in whole cross stitch on silicone covers.
Flexihoops ... I decided to use one of these frames to mount the reversible Little Owl from the Classic Embroidery pattern.
Review of Little Owl, blackwork kit by Classic Embroidery ... This pretty little design is sold as a 'weekender' and certainly can be completed in a weekend or a few evenings.
Review of Believe by Designs Works ... A pretty little design of the word with fairies and beads.
Review of Woodland Winter by Rose Swalwell ... A pretty little design from a seasonal set.
Review of Gardener Chick by Heritage Crafts ... Heritage Crafts have lots of birds and flower kits converted from the artwork of Valerie Pfeiffer which are very pretty and timeless.
Review of Cow - Sheep- Pig - Bull ... We decided that it would be a good idea to stitch a few different suppliers' kits to review them for our customers.
Quaker Style ... Crewel work was very popular in Europe during the sixteenth and seventeenth century.
An Introduction to Bargello ... There are lots of names for this style of canvas work including
Half Cross Stitch ... Some cross stitch designs have areas of
Band Samplers ... Band Samplers are a very old form of embroidery dating back to the Late Middle Ages.
Swedish Weaving ... This traditional craft had a revival in the 1930s and 40s and is becoming increasingly popular today.
Something a little bit different ...
Ribbon Embroidery ...
Counted Beadwork ... Beadwork was very popular in Victorian times when it was used to decorate evening dresses and bags and in furnishings such as cushions and footstools.
Assisi Embroidery ... Assisi embroidery comes from the Italian town of that name and was once used to decorate ecclesiastical linens.
Blackwork Easter Egg - a simple example. ... There's nothing very complicated about blackwork.
Would you like to try hardanger ? ... Some of you have recently expressed interest in hardanger, so we decided to research the subject a little and look for a few products.
New Baby? ... News of an expected new baby is always very exciting, and not just to the parents-to-be!
Miss Potter - Renaissance Woman ... Hollywood has seen a ready market for adaptations of British childrens' classics - Alice in Wonderland, Winnie the Pooh, Peter Pan, and so on, but now director Chris Noonan has made a new movie based on the life of the storyteller rather than the stories.
Christmas is coming, the goose is getting fat ... ... Or perhaps, «gravitationally challenged», but it just doesn't scan.
Searching for Golden Threads ... I had a long search to find the
Mounting Your Embroidery On Card ... This is a short piece with advice on mounting your embroidery on card for framing - what type of thread to use and how to do it.
What Colour Is Blackwork? ... Blackwork is over four hundred years old
Not Another Embroidery! ... There are many, many cross stitch and embroidery designs and kits out there.
Goldwork ... Goldwork embroidery
Stitching Techniques And Tips ... An introduction to working cross stitch, blackwork and needlepoint designs with some useful tips and advice for beginners.