Witch's Shoe by Sue Hillis
If the shoe fits wear it

An amusing and colourful design, maybe be careful who you give it to as a present.

The black and white chart is printed 10 stitches to two centimetres on A5. Not large scale but clear enough. There are a few partial stitches and as I worked it on evenweave fabric, that wasn't a problem. There is some black backstitch around black cross stitch which I didn't think necessary. Apart from that I can't fault the pattern. The finished embroidery should have ribbons laced and tied in a bow but I'm happy with it as it is.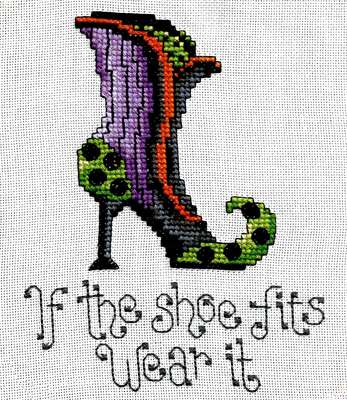 by Anne Peden on Mon, 25 May 2020, 18:02
Poppy Biscornu by the Tiny Modernist
A brightly coloured pin cushion worked in whole cross stitch and backstitch. The pattern is in full colour printed 10 stitches to two centimetres. The backstitch is printed in black over the cross stitch and that makes the chart very difficult to read. I enlarged the chart to double the original size and still found it hard to read especially as two of the red symbols and two of the green symbols were similar. A design which should have been quick and easy to stitch took rather a long time.

I had to refer to the Tiny Modernist web site to get instructions on making up. Those were fine. However I found I couldn't accurately join the two pieces of finished embroidery with whip stitch through the backstitch. This was probably my own eyesight at fault so I overstitched the joins following the fabric rather that the stitches which is a less attractive finish.

Although the completed biscornu is pretty, overall I couldn't recommend this pattern.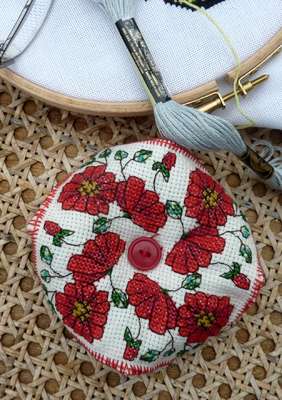 by Anne Peden on Mon, 13 Apr 2020, 10:46
Winter Warmth by Panna
Gamma is a Russian compamy who have been trading for 27 years. They produce their own fabric and stranded cottons and their cross stitch kits are under the Panna and Klart labels, Diamond painting kits under the Freyja label and toy sewing kits by Miadolla.

Winter Warmth of two birds in snow is one of the Klart kits which are simpler and often cartoons. This is stitched on 16 count dark grey fabric using two strands of cotton for the whole cross stitch and one strand for the backstitch.

The chart is printed in black, grey, blue and pink on white. The colours don't match the floss shades which is fine but it's a bit strange when the white floss is blue in cross stitch and pink in backstitch. The same shade of blue is used for grey in backstitch. The backstitch on the chart sometimes obscures the cross stitch symbols but the chart scale is large enough to make it possible to recognise the intended symbol.

Some of the brown backstitch doesn't stand out well against the dark fabric. Some of the red backstitch on the birds is actually worked over the same colour and so has no effect. And I confess that I didn't take the time to follow the chart exactly when placing the snowflakes. I don't like single stitches where you have to carry floss over the back of the fabric. However the fabric is dense enough that it doesn't show through.

The fabric in the kit was a good size and there was plenty of leftover floss. The project was quick to stitch and finished embroidery is very pretty.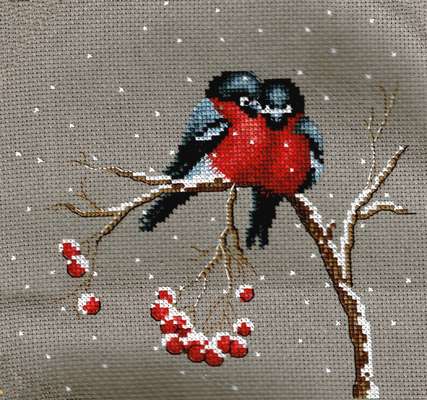 by Anne Peden on Wed, 26 Feb 2020, 19:23
Mirabilia Designs "Queen of Freedom" Chart Give-Away February 2020 Terms and Conditions
Arts and Designs Mirabilia "Queen of Freedom" Chart Facebook Giveaway - Terms and Conditions.

1. The competition is open to registered users of Facebook, aged 18 or over. The competition will run from 12:00pm on 19th of February 2020 to 12:00pm on 26th of February 2020.

2. All information detailing how to enter this competition forms part of these terms and conditions. It is a condition of entry that all terms and conditions are adhered to. Submission of an entry will be taken to mean acceptance of these terms and conditions.

3. The promoter of this competition is Arts and Designs Limited, (a company registered in England number 2725279) 3 Milehouse Crescent, Dumfries DG1 1JZ, United Kingdom.

4. To enter, entrants must comment on any of the "Queen of Freedom" Chart Giveaway Posts on the Arts and Designs Facebook Page posted between 12:00pm on 19th February 2020 and 12.00pm on 26th February 2020.

5. Any number of comments may be submitted.

6. Entrants using multiple Facebook accounts will be disqualified and Entries must comply with the terms and conditions of Facebook.

7. Each entrant agrees that they have independently developed and/or have the relevant authority/consent(s) to submit the Entry and will not infringe the intellectual property or any other rights of any person.

8. Entries will not be accepted if deemed inappropriate or offensive by Arts and Designs (in its absolute discretion).

9. There will be one winner. No correspondence will be entered into regarding the selection of the winning Entries.

The prize is as follows:

The winner will receive a single "Queen of Freedom" (Designed and produced by Mirabilia) printed cross stitch chart. The prize is worth £10.63.

10. Arts and Designs will announce the winner via a Facebook post at 14:00 on Wednesday the 26th of February 2020 following the competition closing. The winner will be notified via a private message and also via a reply to their winning comment. The winner will be drawn at random by a member of the Arts and Designs team. In the event of two people with the same name coming forward to claim the prize, the prize will be given to the person who's comment has been responded to by a member of the Arts and Designs team which says that they are the winner.

11. The winners must provide their name, address, and email address and confirm that they are available to accept the prize as specified by Arts and Designs. Arts and Designs reserves the right to request proof of age, residence and identity of the winner. If a winner cannot provide any of the above details and confirmations to Arts and Designs satisfaction within 7 days of being contacted by Arts and Designs and/or cannot confirm they accept the prize within 7 days of being notified by Arts and Designs, the winner's entry will be deemed invalid and Arts and Designs reserves the right to select another winner from the remaining Entries.

12. By entering, Entrants understand that they are providing their information to Arts and Designs and not to Facebook. This competition is not sponsored, endorsed or administered by, or associated with Facebook. Any questions, comments or complaints regarding the promotion will be directed to Arts and Designs, not Facebook.

13. The winner consents to Arts and Designs announcing their name publicly on their Facebook page as a prize winner, making copies of or publishing the whole or any part of the Entry and otherwise exploiting the Entry and any rights in relation to the Entry for any purpose and without compensation. If you do not agree to this please do not enter the competition.

14. The information entrants provide will be used by Arts and Designs for the purpose of conducting this competition. Arts and Designs may disclose entrants' personal information to its contractors and agents (e.g, the winner's postal address must be disclosed to our shipping carrier in order to ship the prize to the recipient) to assist in conducting this competition or communicating with entrants.

15. Arts and Designs reserves the right to amend these terms and conditions at any time or offer a reasonable equivalent to the prize described. The winner may not exchange the prize for cash or other cash alternative.

16. Employees of Arts and Designs and its affiliates and any other persons or employees of companies associated with this Competition and members of the families and households of any such persons, are not eligible to enter this Competition. Any such entries will be invalid.

17. In accepting the prize, the prize winner accepts our terms and conditions.
by Julie Lynes on Wed, 19 Feb 2020, 08:49
Rock Cat by Lanarte
This is a delicate little design worked in half cross stitch, one over one on 30 count linen.

The chart at 10 stitches to three centimetres is obviously far larger than the actual embroidery and is easy to follow. I was a little concerned about stitching something so fine but it was really easy to see the fabric clearly as working on a single strand meant that the cover wasn't thick. The only tricky bit was the stitching the white areas since it was harder to see which stitches were already done. I had to complete that in good natural light. It comes with a good size piece of fabric with plenty of space should you wish to add a cat's name or dedication. There's plenty of left over floss.

Overall a quick project and once I mount it in a small flexihoop, a nice little present. There are other quirky cats in the same series.
by Anne Peden on Sat, 11 Jan 2020, 11:13
Winter Ruby Christmas Tree Decoration by M P Studios
This kit's instructions are in Russian with English translations.

The kit came with two pieces of plastic canvas and a chart with the two similar designs. It wasn't clear whether it should make one or two finished pieces. I suspect you were meant to make two but I decided to join them in the same way as some of the Riolis Christmas tree ornaments in plastic canvas are joined.

There are a lot of beads in this design and the only instruction is to stitch them with white floss. There's nothing to say whether that's with half or whole cross stitch and with one or two strands. As it turned out from the amount of white floss in the kit, it should probably be half cross stitch and one strand.

I also had to use extra floss to join the two finished baubles using overcast stitch. Since I couldn't match the colour exactly, I chose a similar shade to the darkest red in the kit.

However I am very pleased with the finished ornament. The clever shading gives it a three dimensional look and the beads add sparkle.

We'll include a extra skein of dark red with every kit to give other stitchers the option of making the finished bauble two sided.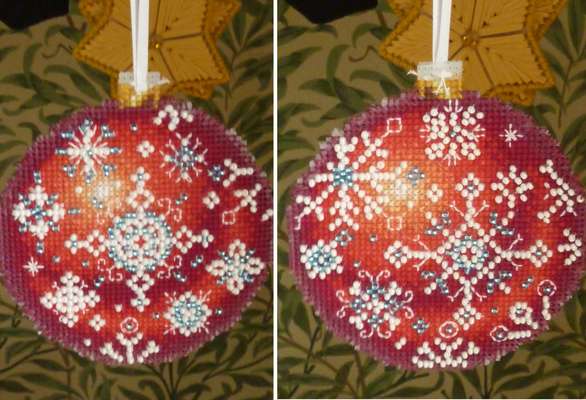 by Anne Peden on Mon, 23 Sep 2019, 17:34
Nasturtium Fan by Needleart World
This was my second Needleart World kit but much smaller than the last and on 14 count Aida.

The design is accurately printed on Aida with grid and key at the side of the fabric. The fabric is overlocked all around so no delay in starting to stitch. There is also a full colour chart to refer to. You shouldn't have to use that to work the whole cross stitch but it is necessary for the added backstitch.

The cross stitch was easy to work quicker for the blocks of colour than the picture. Some backstitch is worked over or partially over the cross stitch and that's where the chart became essential as the lines showing it had been covered by floss.

The exciting bit is when you wash out the colour. This worked well in the stitched area but there are still remnants of the print on the outer areas which was surprising since everything on my first Needleart World kit Koi Carp washed out. It doesn't matter once the embroidery is mounted.

There was lots of leftover floss and the design was quick to work.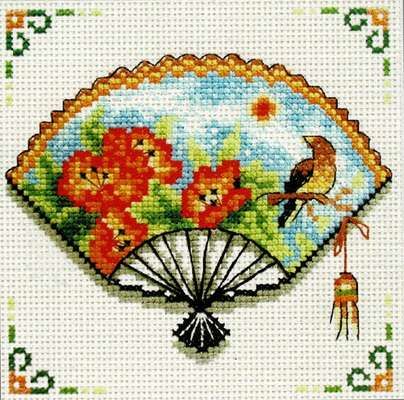 by Anne Peden on Fri, 02 Aug 2019, 16:11
Chickadee by Heritage Crafts from artwork of Valerie Pfeiffer
The kit by Heritage Crafts has large scale black and white charts on facing A5 pages. The first chart shows only the whole and partial cross stitch while the second has the added backstitch superimposed on a faded version of the first chart. This makes the stitching and especially the placement of the backstitch very clear.

As with most Heritage Crafts kits there are diagonal three quarter stitches but also horizontal and vertical half cross stitches. These are sometimes combined with 'straddled' cross stitches. The chart has diagrams for these but they are still a little tricky. I stitched the evenweave version which I expect is easier than making these stitches on Aida but I seldom stitch on Aida.

The instructions are for backstitch or long stitches without specifying which should be used where so it's up to the stitcher to decide. Where the stitches radiated out from cross stitches in this design it was easier to decide which to use and a little harder to be accurate in the densely stitched areas.

There was lots of extra floss. The design was quick to stitch and the result is very pretty.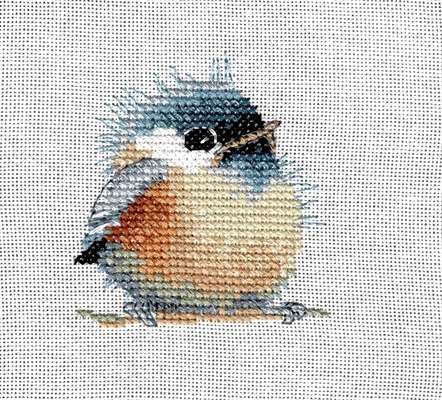 by Anne Peden on Thu, 01 Aug 2019, 07:13
Wonder Invisible Thread by YLI
This thread is suggested by Nora Corbett for adding beads to her designs using a size 10 beading needle. This is an alternative to using two strands of matching stranded cottons.

I found it impossible to thread the beading needle with two strands of floss and even the invisible thread is very difficult to get through the needle eye. I found the best way was to use a black or dark background. Once threaded I found it was easier to knot the end and use double, otherwise it kept slipping off the needle.

I tried using long lengths to cut down on the number of times I had to thread my needle but that caused the problem of snagging on beads already in place.

The advantage of the thread is that it's strong, invisible and may be used for all the beads in the embroidery. Being invisible is also the main disadvantage.

Overall it was probably the better option for me and I will use it on all future projects with beads.

by Anne Peden on Sat, 08 Jun 2019, 09:22
Bird with Sweets by Permin
A sweet little design instantly recognisable as liquorice allsorts.

The pattern is worked in whole cross stitch in two strands and some backstitch in one strand on 14 count white Aida. There is ample floss enough also to use for sewing up and to add a hanging thread. Black backing fabric is included without any instructions in completing. However that's quite simple to work out yourself. All I needed to add was some wadding to fill.

It took me seven hours to stitch the little bird a quick and easy project.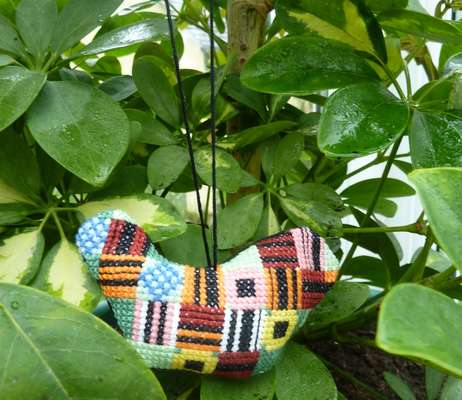 by Anne Peden on Sat, 08 Jun 2019, 08:49
Earlier Stitchcraft Articles ...
Tulips - Silken Long Stitch by Rose Swalwell of Derwentwater Designs ... This is a pretty long stitch design of flowers from the Silken Long Stitch series.
Lanterns by Riolis ... This a very pretty oriental design with red, pink and green lanterns of different shapes hanging from Spring flowering branches.
Magic by the Oven Company ... Magic is a counted cross stitch worked on 14 count black Aida using three shades of stranded cottons.
When plastic canvas is useful ... I came across a crochet pattern for a nursery rug in the shape of a cartoon snail.
Turtle Family by Anchor ...
DMC Etoile ... DMC's latest threads Etoile arrived this month.
Blackwork Birds ... Many years ago, possibly forty, I embroidered a picture of goldcrests.
Embroidering Birds ... Many years ago, possibly forty, I embroidered a picture of goldcrests.
Damask Square by Ink Circles ... I love these symmetrical designs and the subtle shading in DMC Color Variations 4150 Desert Sand.
Mirror Case by Eva Rosenstand ... I decided to stitch this handbag mirror for a small present.
Snowberries by Haandarbejdets Fremme ... This is an Assisi style design with the background stitched and the leaves and berries unstitched.
Review of Koi Carp by Needleart World ... These kits are from the Grafitec company who produce traditional screen printed needlepoint canvases.
Review of Grafitec Needlepoint Canvas ... Grafitec canvases are screen printed in full colour.
Swedish Weaving ... Swedish weaving is also known as huck embroidery or huck weaving and became popular in the US during the 1930s and 40s.
Outline stitches in Blackwork ... Until recently I used backstitch to outline areas in blackwork.
Golden Crown Mark 2 ... Having learned from my first attempt at making a dressing-up crown, I decided to make a smaller lighter version.
DMC Coloris ... We thought we'd try a design in the exciting new Coloris by DMC.
A Golden Crown ... Our three year old granddaughter said ' Gran, I need a crown' .
Uses & Care for Kreinik Metallic Ribbons ... Applications: crazy quilting (hand and machine), crewel, cross stitch/counted thread, doll making (hand and machine), fly fishing, kids' crafts, machine embroidery/bobbin work, machine embroidery/couching, needlepoint/canvas work, plastic canvas, ribbon embroidery, stumpwork, weaving.
Uses & Care for Kreinik Braids ... Applications depend on the thickness of the braid but include: appliqué (hand and machine), blackwork, costumes, crazy quilting (hand and machine), crewel, crochet, cross stitch/counted thread, doll making (hand and machine), fly fishing, hardanger, kids crafts, knitting (by hand), lace making, machine embroidery/bobbin work, machine embroidery/couching, machine embroidery/in the needle, min
Kreinik Cable ... Applications:
Blending Filament ... Applications :
Transferring designs to fabric for surface embroidery ... We were recently asked how to transfer your own design onto fabric to embroider.
Seasonal Blooms by Brittercup Designs ... I've liked these designs ever since I first saw them so took this opportunity to try Winter.
Witching Hour Ornament by the Prairie Schooler ... This cute design took only a couple of evening to stitch.
Milkweed Butterfly and Flower ... I have stitched some Thea Gouverneur designs before from her two lovely books
Embroidered Table Covers ... Hand stitched printed table covers always look lovely on your dining table.
Rico Design Hooded Baby Towels ... These baby towels make lovely gifts and can be used from birth and for many years.
Easter Rabbit by Eva Rosenstand ... Eva Rosenstand kits are now produced by Permin of Copenhagen and the key and instructions are in the same format as their designs.
Iphone 5 Phone Covers by Anchor. ... This is a quick and easy project worked completely in whole cross stitch on silicone covers.
Flexihoops ... I decided to use one of these frames to mount the reversible Little Owl from the Classic Embroidery pattern.
Review of Little Owl, blackwork kit by Classic Embroidery ... This pretty little design is sold as a 'weekender' and certainly can be completed in a weekend or a few evenings.
Review of Believe by Designs Works ... A pretty little design of the word with fairies and beads.
Review of Woodland Winter by Rose Swalwell ... A pretty little design from a seasonal set.
Review of Gardener Chick by Heritage Crafts ... Heritage Crafts have lots of birds and flower kits converted from the artwork of Valerie Pfeiffer which are very pretty and timeless.
Review of Cow - Sheep- Pig - Bull ... We decided that it would be a good idea to stitch a few different suppliers' kits to review them for our customers.
Quaker Style ... Crewel work was very popular in Europe during the sixteenth and seventeenth century.
An Introduction to Bargello ... There are lots of names for this style of canvas work including
Half Cross Stitch ... Some cross stitch designs have areas of
Band Samplers ... Band Samplers are a very old form of embroidery dating back to the Late Middle Ages.
Swedish Weaving ... This traditional craft had a revival in the 1930s and 40s and is becoming increasingly popular today.
Something a little bit different ...
Ribbon Embroidery ...
Counted Beadwork ... Beadwork was very popular in Victorian times when it was used to decorate evening dresses and bags and in furnishings such as cushions and footstools.
Assisi Embroidery ... Assisi embroidery comes from the Italian town of that name and was once used to decorate ecclesiastical linens.
Blackwork Easter Egg - a simple example. ... There's nothing very complicated about blackwork.
Would you like to try hardanger ? ... Some of you have recently expressed interest in hardanger, so we decided to research the subject a little and look for a few products.
New Baby? ... News of an expected new baby is always very exciting, and not just to the parents-to-be!
Miss Potter - Renaissance Woman ... Hollywood has seen a ready market for adaptations of British childrens' classics - Alice in Wonderland, Winnie the Pooh, Peter Pan, and so on, but now director Chris Noonan has made a new movie based on the life of the storyteller rather than the stories.
Christmas is coming, the goose is getting fat ... ... Or perhaps, «gravitationally challenged», but it just doesn't scan.
Searching for Golden Threads ... I had a long search to find the
Mounting Your Embroidery On Card ... This is a short piece with advice on mounting your embroidery on card for framing - what type of thread to use and how to do it.
What Colour Is Blackwork? ... Blackwork is over four hundred years old
Not Another Embroidery! ... There are many, many cross stitch and embroidery designs and kits out there.
Goldwork ... Goldwork embroidery
Stitching Techniques And Tips ... An introduction to working cross stitch, blackwork and needlepoint designs with some useful tips and advice for beginners.