Tulips - Silken Long Stitch by Rose Swalwell of Derwentwater Designs
This is a pretty long stitch design of flowers from the Silken Long Stitch series.

The canvas has to be firmly mounted on a rectangular frame and I used a Grip n' Stitch. There is a note on the pattern that the outside edges may not be exact and to be careful to follow the line of the canvas keeping the stitches vertical.

The designs is worked in four strands of cotton and my only criticism of the kit is that the needle eye is a bit small so I used a different one. I seem to say this about every kit so perhaps the problem is more with to do with my eyesight.

The pattern shows a loop method to start a thread which works well. You start with smaller areas first and finish with the background. There is ample floss, so much that you can take a new length for each area without having to use leftover bits.

It took me 10 hours to stitch the design and it was very easy to stitch. The perimeter lines are outside the stitching on two sides as the instructions warned but the corners are almost perfect right angles.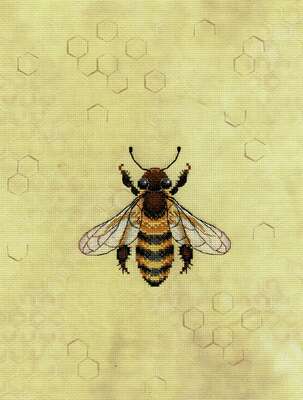 It was wonderful to produce something so pretty in such a short time.
by Anne Peden on Thu, 16 May 2019, 08:23