Swedish Weaving
Swedish weaving is also known as huck embroidery or huck weaving and became popular in the US during the 1930s and 40s. It was first used to embellish plain household fabrics like towels, table runners and pillow cases and is now also used smaller projects like pot holders and larger projects such as afghans.

There are various fabric used for this technique Aida, huck toweling and huck fabric but any evenweave fabric may be used.

Huck toweling is 16 to 18 inches wide and is used for towels or runners. Huck fabric is 60 inches wide and suitable for larger projects. Both fabrics should be washed in hot water, dried thoroughly and ironed before use as they will shrink.

Threads used depend on the fabric and can be stranded cottons, pearl cottons or acrylic yarn but not 100% wools.

The stitches are simple and are done by picking up vertical threads called floats on the front of the fabric so that the stitching doesn't show through on the reverse. The stitching is typically worked in rows using lengths of threads two and a half times the width of the fabric to be stitched.

Many designs are worked in a single shade but brighter, more colourful patterns are also available and designs can even be personalised with woven words and letters.

See Swedish Weave Designs for patterns, fabric and kits.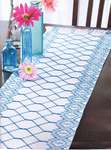 by Anne Peden on Fri, 28 Oct 2016, 18:19