Easter Rabbit by Eva Rosenstand
Eva Rosenstand kits are now produced by Permin of Copenhagen and the key and instructions are in the same format as their designs. New customers to Permin sometimes think that the instructions are incomplete or are in Swedish, but in fact although terse and pictorial, all the information is there in a logical and consistent system.

This might be a good opportunity to explain that format, so we have prepared a short file which you can download to read which will hopefully help, but if not let us know and we'll try to improve it.

To get back to the Rabbit. The floss organiser has a couple of useful features. There's a box under each number where you can draw the cross stitch symbol which saves always referring to the key. The circular holes have a slot underneath so that you can pull the unused and partly used thread down into that to keep it tidy.

I've seldom worked on linen evenweave and prefer cotton evenweave because of the closer and more even weave. However the fabric in this kit is easy to work on, the threads are narrower making the holes easier to see and I was pleasantly surprised. Of course, for the same reason, you can't carry floss over unstitched areas and have to be careful not to leave floss ends at the edges.

There were no problems stitching the design although the two darkest shades for the fur are pretty close. When the cross stitch was complete, the picture did look a bit bright but the backstitch toned it down.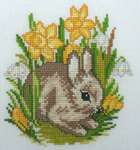 by Anne Peden on Fri, 18 Sep 2015, 14:42