Poppy Biscornu by the Tiny Modernist
A brightly coloured pin cushion worked in whole cross stitch and backstitch. The pattern is in full colour printed 10 stitches to two centimetres. The backstitch is printed in black over the cross stitch and that makes the chart very difficult to read. I enlarged the chart to double the original size and still found it hard to read especially as two of the red symbols and two of the green symbols were similar. A design which should have been quick and easy to stitch took rather a long time.

I had to refer to the Tiny Modernist web site to get instructions on making up. Those were fine. However I found I couldn't accurately join the two pieces of finished embroidery with whip stitch through the backstitch. This was probably my own eyesight at fault so I overstitched the joins following the fabric rather that the stitches which is a less attractive finish.

Although the completed biscornu is pretty, overall I couldn't recommend this pattern.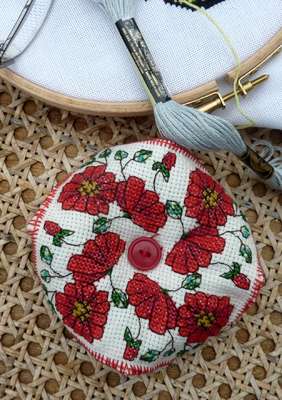 by Anne Peden on Mon, 13 Apr 2020, 10:46