Quaker Style
Crewel work was very popular in Europe during the sixteenth and seventeenth century. With the new trade routes to the Far East opening there were exciting new possibilities to use silks and linens and ladies began to make elaborately patterned clothes and bed hangings.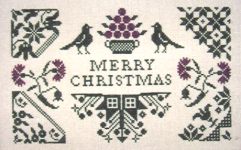 The ladies of the New World also enjoyed embroidery often dying their own floss and taking inspiration from the birds and animals around them The simple style of working in only one shade of floss on a contrasting background appealed to the Puritan mind but the floss could be shaded by steeping wools in indigo over varying lengths of time to give different effects.

We have put together a collection of cross stitch patterns in Quaker style. Since most are worked in whole cross stitch using one or very few shades of floss these are often ideal for beginners. Shading can be introduced with overdyed floss or sampler threads to recreate the American Colonial style.

Simple Fabric Dyeing

Some of the patterns use specially dyed fabric to give an antique look but if these are not available or just to add your own individuality to the samplers, why not dye your own fabric using tea or coffee. The finished fabric comes out a warm cream with slight shade variation.

First wet your fabric and then dip it it a cup of black tea or coffee. By varying the amout of tea or coffee used you can achieve lighter or darker fabric. When you are happy with the colour add two tablespoons of white vinegar to the cup and dip the fabric again. The vinegar sets the fabric. Then let the evenweave fabric dry naturally, iron it and it is ready for use. The smell of the vinegar disappears.
by Arts and Designs on Thu, 23 Oct 2008, 17:10