Magic by the Oven Company
Magic is a counted cross stitch worked on 14 count black Aida using three shades of stranded cottons.

The pattern is worked in whole cross stitch, half cross stitch and backstitch cleverly using varying numbers of strands. The white of the lanterns is in whole cross stitch using three strands of white. The yellow light is worked in half cross using three, two and then one strand as it works outwards. Grey floss is used to add depth to the lanterns. Some backstitched snowflakes are worked in two strands and some in one.

The chart uses different colours to denote the number of strands used and so it is very easy to follow.

I was hampered a little by the black fabric which slowed progress but there were no problems with the design and there was ample floss.

Time to stitch - 28 hours.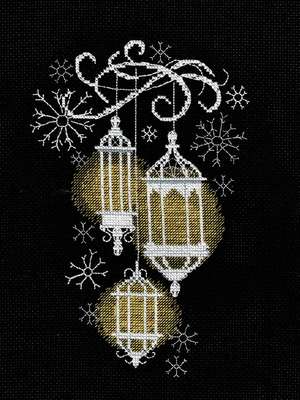 by Anne Peden 19th March 2019 on Tue, 19 Mar 2019, 14:59