A Golden Crown
Our three year old granddaughter said ' Gran, I need a crown' . I could have made one out of paper but after a bit of thought I decided on plastic canvas.

It's more of a tiara really with elastic to hold it on. I wanted to use gold metallic threads so I picked 10 mesh and used a mixture of Kreinik flosses. No. 32 covers well in tent stitch but to add interest and texture I also used no. 8 and no. 16.

I wasn't sure whether it would be better to cut the shape first and then embroider or embroider first and cut afterwards. Cutting complicated shapes with a craft knife is a bit tricky as you find you sometimes go too far. In the end I cut one half of the shape and followed the line as I stitched on the other half.

The lower border is stitched in cushion stitch using no.8 in 002 gold. I followed with a row of tent stitch in no.32 002. Then a diagonal stitch over two and satin stitch squares in no. 32 High Lustre 002HL alternating direction to save carrying the floss across the reverse.

I worked two fir stitches also in no. 32 High Lustre 002HL, one each side of the centre. The raw edges were quite sharp and would have caught in the princess's hair. I tried going over them with no. 32 braid but it didn't cover well and then I tried 1/8th ribbon which did work well. I only happened to have that in Aztec gold so felt it should appear on places other than the edge hence the sweeping pattern. I filled in with no.32 002 braid in tent stitch above and no. 16 braid 002 in tent stitch below. Then finished around the edges with the 1/8th ribbon.

The large bead came from an old necklace and I lined the reverse with a similar colour of fabric stitching with gold sewing thread which didn't show on the front.

Having learned from my first attempt, there will possibly be a second smaller version when time permits.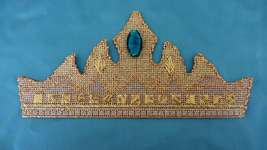 by Anne Peden on Sat, 02 Apr 2016, 17:39