Review of Woodland Winter by Rose Swalwell
A pretty little design from a seasonal set. Derwentwater Designs has many Spring, Summer, Autumn Winter sets. This is one of the smaller sets.

Firstly I had to sort the threads onto cards by colour. Rose Swalwell never uses any partial stitches but the stitching completely covers the design area so that can be a bit complicated if there are lots of shades.

I decided to begin with both browns in the tree trunks as it's easier to go wrong if you work too far in a single shade. The shade with the most floss is a mid grey so I decided to leave that to last and use it to fill in the gaps without having to refer to the chart.

I gradually introduced all the other shades so that I could check I hadn't made any mistakes. Then when I was happy that all but the mid grey was stitched I finished the whole cross stitch. A border of the same shade left only the backstitch. That is worked in two shades of brown, the lighter brown charted with a dotted line which wasn't so easy to see so I had to refer to the finished picture to check.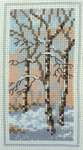 The whole embroidery was completed in less than a week with lots of leftover floss.

Woodland Winter is brighter and with more peach than the illustration on the kit cover. The set of four seasons could be worked and mounted in a single frame.
by Anne Peden on Fri, 14 Aug 2015, 10:55