Damask Square by Ink Circles
I love these symmetrical designs and the subtle shading in DMC Color Variations 4150 Desert Sand. I decided this would be a quick project and chose Permin 32 count CL065/95 Milk Chocolate which comes 46 cms square so that the pattern would be in the centre and it would be an ideal match for our damask cushion sofa.

I did realise the pattern has nearly 5000 stitches but of course all whole cross stitch and no colour change. I didn't allow for my failing eyesight and stitching on darker fabric and after my first enthusiasm, I put the embroidery on the back burner.

Eventually I brought it back out again to stitch on brighter days and although far from neat stitching I reached the end.

The backing fabric matches the sofas and to me it cried out for a lace edging. I looked out a knitted lace edge in an out of print book which belonged to my grandmother and knitted that in cream no. 20 crochet cotton. ( See pattern below)

My mother always says that I can do anything with a needle but sew, so there was another long pause while I considered how to complete the cushion cover but when I could ignore it no longer, I got it back out and completed the cushion.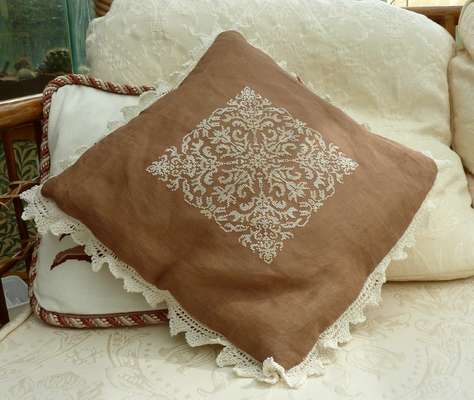 The finished article looks lovely in our conservatory where nobody will examine it closely. I can't fault the Ink Circles pattern at all but will be more careful on my choice of fabric count and colour in the future.

Download the knitted lace edging pattern here.
by Anne Peden on Wed, 25 Jul 2018, 08:11