Seasonal Blooms by Brittercup Designs
I've liked these designs ever since I first saw them so took this opportunity to try Winter.

I used Permin of Copenhagen 32 count linen in Optical White which is a bright white as I thought it would contrast well. It's available in a fat quarter and a smaller useful size.

The pattern gives several floss options. It can be worked entirely in hand dyed fibres, seven Gentle Arts, one Classic Colorworks and one Weeks Dye Works, entirely in stranded cottons DMC or Anchor or in any combination.

I first worked the glass outline in Classic Colorworks black coffee. As this is an overdyed floss I worked both legs of each cross stitch before moving on. There seems little variation in the colour of this floss so that wasn't entirely necessary, but fitted in quite well with the shape.

I worked most of the colours in Anchor stranded cottons so I was able to work back and forth with the blocks of stitching. The red of the Poinsettia is in Weeks Dye Works Turkish red so I again I completed each cross stitch as I went. The complete design probably took under twenty hours to stitch.

Mounting the finished embroidery was a but tricky. Because of the dark central line, it really has to be very precise, straight and in the exact middle.

I'm pleased with the Art Deco style of the finished picture.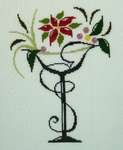 by Anne Peden on Thu, 03 Dec 2015, 12:01