Counted Beadwork
Beadwork was very popular in Victorian times when it was used to decorate evening dresses and bags and in furnishings such as cushions and footstools.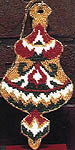 Nowadays many cross stitch designs have a few beads to add dimension and interest but it is also possible to work patterns completely in counted beadwork either on fabric, waste canvas or perforated paper to make a variety of exciting articles and cards.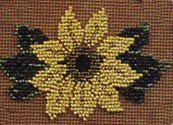 Beads are attached with a half cross stitch using either a beading needle or a fine needle number 9 or 10 with a double thread of the chosen floss. All crosses must be worked in the same direction. As with cross stitch, never use knots but work the end of the thread into the back of your work.

Choose a thread shade to match the fabric and not the beads so that you don't have to change thread when you change to a different colour of bead. It's best to work in rows where possible and each bead will tighten when you begin the next stitch.

As with cross stitch, practice will soon make perfect and you will find it easy to get the correct tension.

We have selected a few leaflets from top designers especially to try this interesting craft:
From Country Cross Stitch, Beaded Favourites is a large range of flowery designs;

Stoney Creek's Beaded Christmas ornaments has instructions for 19 projects, and

Imaginating's Beaded Accents has four patterns to be worked on garments.

If you would like to find out more about these booklets click here.

These would make a good starting point to try out the art of beadwork and give you the confidence to be more adventurous with beads in other designs.
by Arts and Designs on Thu, 27 Sep 2007, 09:33