Winter Ruby Christmas Tree Decoration by M P Studios
This kit's instructions are in Russian with English translations.

The kit came with two pieces of plastic canvas and a chart with the two similar designs. It wasn't clear whether it should make one or two finished pieces. I suspect you were meant to make two but I decided to join them in the same way as some of the Riolis Christmas tree ornaments in plastic canvas are joined.

There are a lot of beads in this design and the only instruction is to stitch them with white floss. There's nothing to say whether that's with half or whole cross stitch and with one or two strands. As it turned out from the amount of white floss in the kit, it should probably be half cross stitch and one strand.

I also had to use extra floss to join the two finished baubles using overcast stitch. Since I couldn't match the colour exactly, I chose a similar shade to the darkest red in the kit.

However I am very pleased with the finished ornament. The clever shading gives it a three dimensional look and the beads add sparkle.

We'll include a extra skein of dark red with every kit to give other stitchers the option of making the finished bauble two sided.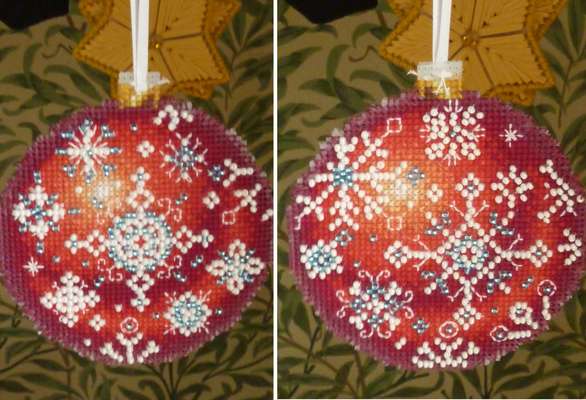 by Anne Peden on Mon, 23 Sep 2019, 17:34