New Baby?
News of an expected new baby is always very exciting, and not just to the parents-to-be! A new life is keenly anticipated by relations and friends alike. Not so long ago, it was a signal to go and buy wool in neutral colours, white, lemon or turquoise and start on shawls, matinee jackets and bootees. While a few of these are still welcome, modern materials and dress make them less important and so many people look for a longer lasting, personalised gift for the new arrival.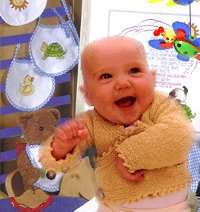 From a stitcher's point of view, one good thing about a baby is that you have a few months' notice to make something special and a birth sampler is ideal. Most of it can be stitched well in advance and the details added quickly to take to the new mother at your first visit.

Samplers can be - but don't have to be - large, and are usually brightly coloured and fun to stitch. With the huge variety of designs nowadays it's easy to find something suitable for the baby's family, perhaps with a religious or secular motto. You can also find designs to commemorate the adoption of a child; sets of matching pictures for multiple births or for a second baby. And there are height charts with personalised baby's details and lots of detail for a growing mind.

For example, Permin of Copenhagen supply a Happy Friends range with appealing cartoon animals. You can choose from small announcement cards or larger samplers. These are well-produced and the larger ones have room for more details - weight, length, place and time of birth.
Permin also produce a Beatrix Potter characters height chart and birth record, and a boy and girl sampler, each with a collection of toys and bears in blue for a boy and pink for a girl.

New from Heritage Stitchcraft are two baby birth records from Margaret Sherry's Just Charlie range - one for a boy and one for a girl.

Maria van Scharrenburg has designed several ranges of birth samplers. In the fantasy style are a zodiac set of four: Earth, Air, Fire and Water with babies in corresponding backgrounds and a set of four brightly coloured «Twinkle Twilight» fairies. There are three «cradling babies» -which are more realistic - and cartoon toddlers with soft toy animals in various sizes.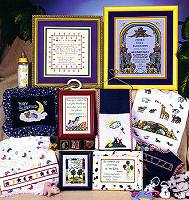 In our charts and patterns section, there are many booklets with multiple designs to give you lots to choose from in style and size - Cross My Heart, Dimensions, Graph-it-arts, Jeanette Crews, Imaginating and Stoney Creek. These are very good value and each booklet usually has designs for all abilities.

There are also leaflets of single designs from Dimensions, Green Apple Beatrix Potter range, Imaginating, Lorri Birmingham and Donna Vermillion. If you are only planning to work one special item, then these may be better for you.

Also, check out our pre-owned books section, most of which are in excellent condition. Jo Verso's books of motifs for samplers both have sections on birth and birth announcements as does her book Cards and Keepsakes. The Cross Stitch Treasury has a baby wall hanging and More Storybook Cross-Stitch has a Beatrix Potter birth notice. There are several designs and ideas in Celebration Cross Stitch and in Alphabets and Samplers. We only have one copy of each book and may not be able to repeat them.

Whatever you choose, you can be sure that the proud parents will appreciate the thought and effort that went in to making that special gift.

You can explore our range of birth announcement cross stitch kits by clicking here or visit our range of cross stitch leaflets and booklets by clicking here.
by Anne Peden on Fri, 19 Jan 2007, 13:50
Comments ...
Please let us know what you think of this article - or any others!