Review of Koi Carp by Needleart World
These kits are from the Grafitec company who produce traditional screen printed needlepoint canvases.

We visited their stand at a trade fair where they were introducing their new cross stitch kits which have the design printed directly onto the fabric. After stitching that is completely washed away.

I was intrigued and decided to try one out. I was perhaps a bit ambitious in my choice of Koi Carp which is stitched on 11 count canvas and has a finished size of 67 by 57 centimetres (26 by 22 inches). Aida isn't my preferred fabric and I would normally have gone for 14 count but I did like the design which also has a printed background.

The floss comes on numbered cards and needs to be halved in length and split into two lots of three strands to be used. The printing is exactly as the company claims, accurately printed on each block so unlike printed needlepoint canvas there are no decisions to be made and I cartainly preferred the precision. I find printed needlepoint pictures unsatisfactory.

This design has twenty-eight colours so the key doesn't just have only coloured squares, it has some with symbols on top. I found some of these a bit too similar to identify and did sometimes refer to the full colour chart which is more traditional with black symbols on the actual shade of the floss. In fact at one point I did stitch a bit in the wrong colour before referring to the picture and then the chart. This may not apply with smaller designs or those with fewer colours of floss.

I was aware throughout that I would be washing the finished embroidery so made the starting and finishing lengths of thread longer than normal but there was still ample floss left over.

Finally, I completed the stitching and reached the exciting bit where I washed out the stitching grid. As suggested I washed twice and rinsed thoroughly and yes, everything disappeared, except of course the background and faint remnants of the key.

The first Needleart World catalogue has 52 designs ranging in size from 12 centimetres square to 85 by 62 centimetres with some on 14 count Aida and some on 11 count Aida so there are a limited number of designs. But if you find a design you like and are happy to work on Aida, I could certainly recommend them.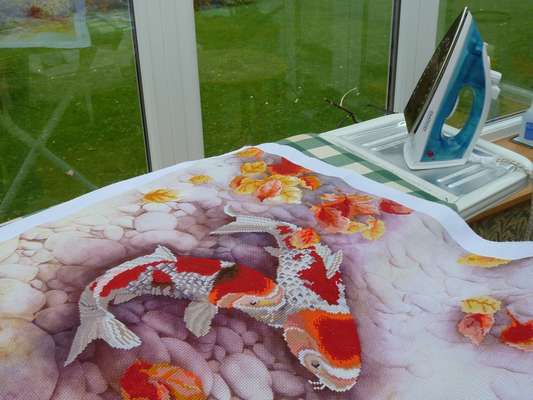 by Anne Peden on Tue, 07 Nov 2017, 19:44