Winter Warmth by Panna
Gamma is a Russian compamy who have been trading for 27 years. They produce their own fabric and stranded cottons and their cross stitch kits are under the Panna and Klart labels, Diamond painting kits under the Freyja label and toy sewing kits by Miadolla.

Winter Warmth of two birds in snow is one of the Klart kits which are simpler and often cartoons. This is stitched on 16 count dark grey fabric using two strands of cotton for the whole cross stitch and one strand for the backstitch.

The chart is printed in black, grey, blue and pink on white. The colours don't match the floss shades which is fine but it's a bit strange when the white floss is blue in cross stitch and pink in backstitch. The same shade of blue is used for grey in backstitch. The backstitch on the chart sometimes obscures the cross stitch symbols but the chart scale is large enough to make it possible to recognise the intended symbol.

Some of the brown backstitch doesn't stand out well against the dark fabric. Some of the red backstitch on the birds is actually worked over the same colour and so has no effect. And I confess that I didn't take the time to follow the chart exactly when placing the snowflakes. I don't like single stitches where you have to carry floss over the back of the fabric. However the fabric is dense enough that it doesn't show through.

The fabric in the kit was a good size and there was plenty of leftover floss. The project was quick to stitch and finished embroidery is very pretty.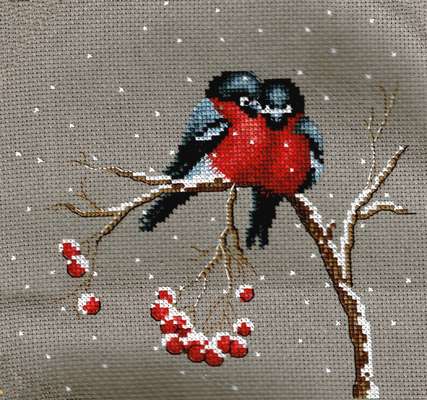 by Anne Peden on Wed, 26 Feb 2020, 19:23