Band Samplers
Band Samplers are a very old form of embroidery dating back to the Late Middle Ages. These were stitch references where the lady of the house tried out new stitches and then put away the rolled up sampler until she needed it for reference or wanted to try out a new stitch. They went out a fashion when books of stitches became more readily available.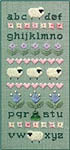 Modern band samplers although often also a collection of different stitches are meant to be displayed and usually have a theme or attractive colour scheme.

Hardanger is often found in band samplers and this makes an interesting project to try out this form of embroidery especially if it's combined with cross stitch. Some band sampler use a variety of flosses giving interesting textures while others work with a limited pallette.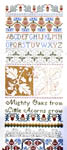 From the traditional 17th Century band sampler by Donna Vermillion to the very modern Chocolate Cake Sampler by Casey Buonaugurio, from the simple one nighter band sampler by Jeannette Crews to the challenging Wildflower Drawn Thread Sampler by Linda Driskell, there's sure to be a band sampler to suit everyone.

Click here to see our current range of patterns.
by Arts and Designs on Mon, 26 Nov 2007, 13:33