Something a little bit different



Douglas Designs with designer Virginia Douglas does have some more unusual designs. There are lots of Victorian style ornaments for Christmas and other seasons with some very interesting Hallowe'en ornaments. Many of these are worked on perforated paper and similar examples can be found from other designers.

Their most unusual designs come from their Stitch-n-Quilt range, taking the idea of combining the arts of cross stitch and quilting

The cross stitch elements of the patterns are fairly simple and easy to work. When quilting, an extra layer of fabric is needed under the cross stitch fabric to prevent the filling from coming through especially when worked on larger count fabric. The quilting is then worked as usual for hand quilting but for cross stitchers unused to quilting there is the benefit of using the count of the top fabric to make the quilting stitches very even and regular.

There are two leaflets in this style so far, one of birdhouses and one of flowers. Work an individual design or a large project, the scale can be varied by the count of your fabric. For those of us who would love to try quilting but don't have the confidence to work a large project these designs are a good idea - have a look at Douglas Designs range here.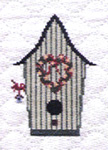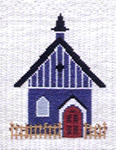 by Arts and Designs on Thu, 11 Oct 2007, 09:09