Plywood Cross Stitch Kits by MP Studios
MP Studios have a range of items made from plywood.

There are floss organisers and mounts. I looked at their designs for cross stitch which have regular holes for cross stitch and other open shapes. They finished design may be backed with patterned paper sandwiched between the stitched wood and a plain backing piece. I decided to stitch the design called Field of Daisies which has a realistic honey bee.

Some of the pattern is stitched in whole cross stitch using three strands and I began with that. For the first colour I used the needle provided, possibly a petite as it was hard to thread. I just couldn't thread that needle again so I tried a normal tapestry size 24. That worked for the first colour but then I realised that the eye of the needle was bent out of shape.

Stitching twice with three strands into the same small rigid hole clearly is a problem and time consuming so after a few needles, I'm afraid I gave up.

We won't be ordering these kits even though they are very attractive.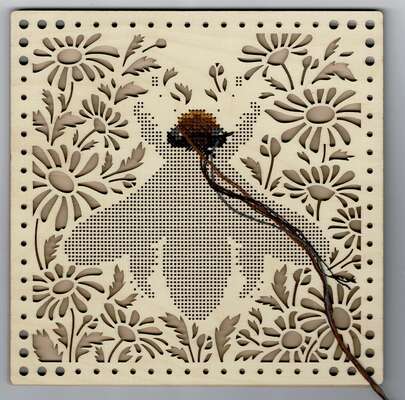 by Anne Peden on Sat, 19 Jun 2021, 18:09