Iphone 5 Phone Covers by Anchor.
This is a quick and easy project worked completely in whole cross stitch on silicone covers. There are a choice of designs to work either black on white or white on black. I chose what I thought would make a 'his and hers' set.

The floss came in lengths of 1 metre, two black and two white. Not a very useful size as the full length is too long to use and half was a bit short as it means more lengths used. I normally work with about 66 cms and perhaps this had an effect later.

Since I wasn't sure how much wear the inside of the cover would get, I was very careful not to carry thread over the reverse and to leave long ends which could be worked in well. I always do this for items which are to be used rather than put behind glass. However the black on white design came out just slightly short of floss.

The white on black was equally easy to work but perhaps not such a good contrast. It also came out short of floss by even more than the first cover.

I perhaps chose the most stitched option for both colourways and the other designs would have enough floss but these are clearly beginner designs aimed at young stitchers who would be unlikely to have extra floss lying around to complete. It would be a disappointment.

I certainly couldn't recommend this kit and we won't re-order. We will include extra floss in any we do sell.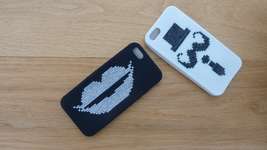 by Anne Peden on Fri, 11 Sep 2015, 11:20