Miss Potter - Renaissance Woman
Hollywood has seen a ready market for adaptations of British childrens' classics - Alice in Wonderland, Winnie the Pooh, Peter Pan, and so on, but now director Chris Noonan has made a new movie based on the life of the storyteller rather than the stories. Miss Potter stars Renee Zellwegger and Ewan McGregor and is set in Cumbria in North west England - the Lake District.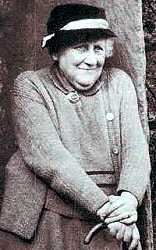 The film tells the story of Beatrix Potter's repressed life and struggle to find an outlet for her creative talents in the male dominated society of Victorian England. The movie is on general release in the USA from 29th Dec 2006 and in the UK from the 5th January 2007 and is sure to spark a lot of interest in Beatrix Potter and her works.

It's perhaps strange that it has been left to the Americans and others to develop classic British childrens' themes. Perhaps familiarity with the stories has left the British arts establishment with a blind spot for home-grown talent. Certainly, there are some counted cross stitch charts and kits featuring the characters and stories of Beatrix Potter, but they are produced mainly by Green Apple (US) and Permin (Denmark) although Anchor (UK) do have a small range.

Beatrix Potter was born on 28 July, 1866 at No. 2, Bolton Gardens, Kensington, and her early life was typical of many Victorian children with wealthy parents. A nanny and a series of governesses attended to her schooling and she recorded in her diary that this was preferable to formal education in that it allowed her to develop her own interests without being forced into a conventional career.

From an early age, she had many interests including natural history, fossils and farming, but she always drew and recorded whatever she was investigating. She talked of «the irresistible desire to copy any beautiful object which strikes the eye ... I must draw, however poor the result!»

Beatrix Potter's stories and illustrations were sparked by lengthy annual family holidays in the Lake District, whose pastoral scenery has inspired many poets and artists. From 1882 until 1903 she holidayed there with her parents, watching squirrels in the woods and rabbits in the vegetable gardens of their holiday homes.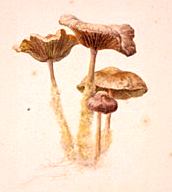 She made many sketches of the landscape and indeed was an accomplished illustrator of nature. Her scientific watercolours and drawings of fungi, mosses and fossils were widely admired and many of them can now be seen in the Armitt Library, Ambleside in the Lake District after her bequest in 1934. In fact, she was the first to suggest that some fungi and bacteria have a symbiotic relationship - now a well-established scientific observation.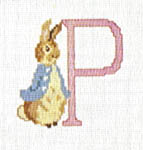 Early on, she made the acquaintance of a local vicar - Hardwicke Rawnsley - who was to become one of the founders of the National Trust, a body dedicated to the preservation of the best of British culture. Rawnsley encouraged her in her drawing and Beatrix made greetings cards of her pictures and started to write and illustrate a book. It was Rawnsley who encouraged her to try to get it published, and eventually it was Frederick Warne who published 'The Tale of Peter Rabbit' in 1902.

In 1903 she bought a field in Near Sawrey, Cumbria after another family holiday. Two years later she bought a small farm - Hill Top - in Sawrey, which was to become her main home. She loved the landscape, and with the substantial income from her books, she continued to buy up areas of local land, becoming something of an expert at farming, particularly sheep. She was the first woman to be elected president-designate of the Herdwick Sheepbreeders' Association, which continues to flourish.

At the age of 47 Miss Potter became Mrs Heelis when she married her solicitor - perhaps a little too late to have any children of her own.

When she died on 22 December 1943, Beatrix Potter left 14 farms and 4000 acres of land to the National Trust, together with her flocks of Herdwick sheep. This was her gift - her beloved countryside for all to enjoy. However, her moral childrens' tales and illustrations and her scientific insights have been the real legacy of this Renaissance Woman.
by Arts and Designs on Wed, 13 Dec 2006, 19:55