Goldwork
Goldwork embroidery is very dramatic and attractive. It can be used in more traditional designs for stylised pictures or by using the textures to give an abstract finish. Whatever you choose to do the gold enhances the work and produces a rich effect.

Goldwork can be used on any type of background material but if the background material is very fine, it is best to use a backing of cotton. Velvet can be quite hard to work on because of the difficulty in transferring the pattern and not all stitches are suitable. One way to get round this problem is to trace the design onto fine muslin, overlay it onto the velvet and work through both layers. When the piece is completed the muslin can be cut away close to the edge of the design.

Gold material is useful for covering large areas quickly. The raw edges can be hidden by laying heavy gold or by using satin stitch in finer gold or other thread. This is most suitable when the design calls for a flat area of colour.

Japanese Gold comes in various weights: Nos. 8, 9, 12 and 13, No 13 being the thickest. This is most suitable for laid work where the thread is not passed through the background, except at each end, but is fixed in place by other threads at intervals to hold the gold in place on the surface. This is called couching and the attaching threads can be laid regularly or in patterns to different effects. Clear or gold couching threads can be used if they are to be invisible or a similar or contrasting colours to the background fabric can be used. The spacing of the couching threads can also be varied to give the effect of shadows or surface decoration. This is known as Italian Shading.

Other materials can be used on the surface of the background fabric to pad out the area before couching and this can also be used to different effect.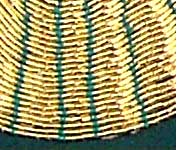 String can be used at žinch (6mm) intervals to cover an area and then gold laid over at right angles. The couching thread can then be used to give different patterns by varying the spacing to give effects such as basket weave. In the illustration the couching stitches are used to give the effect of ribs on a dragon.

Felt can also be used for padding - to interesting effect. Use yellow felt cut to the outline required and then cut four others getting slightly smaller each time. Start with the smallest first and sew it to the centre of your shape with small stitches at right angles to the edge. Then attach the other layers in order of size in the same way. The gold thread is then couched over the raised area.

Other gold threads come in different textures and can also be couched. Finishes include Smooth Purl, Rough Purl, and Check Purl and each creates a different effect

Gold passing threads are available in various thicknesses. These can be used in the same way as embroidery cottons in the same stitches.

Silk or silk equivalent threads are also very effective in goldwork designs to add coloured detail. Beads or sequins are also frequently used.

It is worth experimenting on a small sample to try out the different techniques but goldwork should not be regarded as particularly difficult. Modern threads are reasonably easy to use and are becoming more readily available. Although gold (and silver) threads are more expensive than cottons, a little can go a long way and the effect is always worth the effort.

by Anne Peden on Sun, 24 Sep 2006, 10:52