Golden Crown Mark 2
Having learned from my first attempt at making a dressing-up crown, I decided to make a smaller lighter version.

Still working on 10 count plastic canvas, I stitched the body completely in whole cross stitch using Anchor Metallic gold 300. The edge was finished as before with 1/8 ribbon by Kreinik in 002 gold.

The heart shaped bead came from a pack of three, but it's a bit heavy so instead of using them all I added some sequins in a similar colour.

I sewed turquoise felt on the reverse stitching through by hand with gold sewing machine thread. That made the crown look a bit dull as the gold thread doesn't completely fill the holes in the canvas so I changed it for yellow to make it much brighter.

The princess was finally satisfied (for the moment) although she spent a couple of days dressing as a witch instead.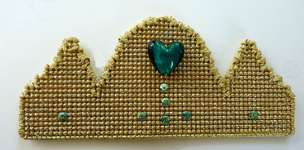 by Anne Peden on Tue, 17 May 2016, 19:59