Blackwork Easter Egg - a simple example.
There's nothing very complicated about blackwork. The simplest designs are worked in a combination of cross stitch and backstitch. Blackwork designs are best used on strong shapes which have sections so that each section can be filled with different patterns.

In blackwork the outline is worked before the filling stitches, usually in backstitch but other running stitches can be used such as whipped backstitch or couched threads, For this example we will just use backstitch.

You can download the chart for the egg here.

So first work this simple outline on 28 count fabric using two strands of cotton over two threads. This shape is worked entirely in straight lines and each stitch is either horizontal, vertical, diagonal or worked over one thread in one direction and two in the other.

When the outline is worked, then the spaces are worked with filling patterns. As a general rule you should use different densities of filling:- light, medium and dark to give interesting contrasts. Try to start around the centre of the shape and work outwards following the regular pattern and stopping at or near the outline. For the fillings use only one strand of cotton and be careful not to carry your thread across open areas on the reverse because it will show through. It also looks best if adjoining patterns are not too similar.

The filling patterns can be relevant to the object for instance scale shaped for fish, feather shaped for birds but that isn't really necessary since the designs are fairly abstract.. The patterns do have to be in proportion to the scale of the space so that the filling is neither too dense or too sparse.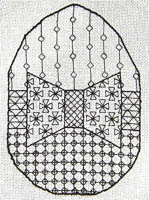 Because eggs should have smooth curves, when the filling stitching was all done, I used two threads of stranded cottons to whip the outline. If you feel it's still not smooth enough you can double whip it repeating the process in the opposite direction.



If this example has left you interested in trying some more blackwork, we have several leaflets and kits available. Leaflets include a dragon, a unicorn, a castle from Dragon Dreams, a butterfly from Stitchable expressions, a flower from Linda Driskell with very detailed instructions and in our own range there's a kit and chart of a Japanese lady and a Scottish dancer.

From Heritage Stitchcraft there are sets of coaster and from Derwentwater Designs some traditional roses and flower kits by Leon Conrad.
by Anne Peden on Mon, 05 Mar 2007, 13:33
Comments ...
this is a atractive model. when i see it i feel its call me from drawn and now i feel its shows the history story in this model some roses in the line and show a bar scene.....