Milkweed Butterfly and Flower
I have stitched some Thea Gouverneur designs before from her two lovely books The Secret Garden in Cross Stitch and Flower Portraits in Cross Stitch. Of course then I could choose my own fabric and it's many years since I worked on anything as fine as 36 count. I was pleasantly surprised to find that the 36 count linen in this kit had clear holes and is easily stitched over two. Perhaps I shouldn't have avoided linen for so long.

I wasn't sure about the instruction to ' use the floss sparingly' Since floss numbers aren't given, it might be a problem to run out but we sell many Thea Gouverneur kits and have very few complaints. To be fair if I have ever requested extra threads for customers, they have arrived with our next order. The floss is in 80cms lengths, not ideal because it's easy to tangle such a long length but I didn't want to halve them as it would waste more thread and after I while I got more adept at not tangling the cottons. However in the end there was ample floss.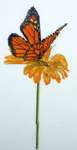 These are computer generated designs and use a lot of different colours, often quite close in shade. On the flowers and stem each colour is grouped without too many single stitches and so the pattern isn't too difficult to follow. However, the butterfly is a bit more complicated and uses lots of shades. Partly that's because it does have spots of colour so that's unavoidable, but also there are several close shades of dark brown and orange. It certainly took much longer to stitch the butterfly than the rest of the pattern.

The finished embroidery is lovely and I think that we just have to accept that Thea Gouverneur kits have more shades than those of other designers and require more time and concentration.
by Anne Peden on Wed, 21 Oct 2015, 14:43