Chickadee by Heritage Crafts from artwork of Valerie Pfeiffer
The kit by Heritage Crafts has large scale black and white charts on facing A5 pages. The first chart shows only the whole and partial cross stitch while the second has the added backstitch superimposed on a faded version of the first chart. This makes the stitching and especially the placement of the backstitch very clear.

As with most Heritage Crafts kits there are diagonal three quarter stitches but also horizontal and vertical half cross stitches. These are sometimes combined with 'straddled' cross stitches. The chart has diagrams for these but they are still a little tricky. I stitched the evenweave version which I expect is easier than making these stitches on Aida but I seldom stitch on Aida.

The instructions are for backstitch or long stitches without specifying which should be used where so it's up to the stitcher to decide. Where the stitches radiated out from cross stitches in this design it was easier to decide which to use and a little harder to be accurate in the densely stitched areas.

There was lots of extra floss. The design was quick to stitch and the result is very pretty.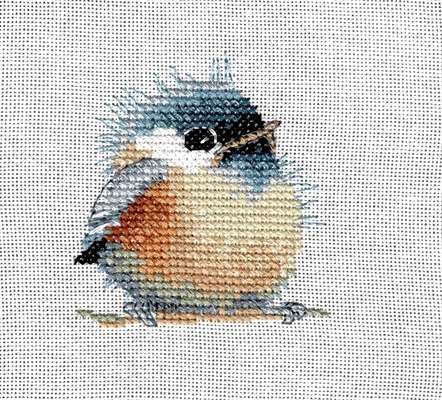 by Anne Peden on Thu, 01 Aug 2019, 07:13