CXC Stranded Cottons
Julie had heard a lot about this floss and decided to order a set from China to review.

It took a few weeks but they arrived eventually in randomly ordered bundles wrapped in elastic bands. When we sorted them by numbers, there was the whole range form 150 to 3866 and none of the new early numbers. That's not quite true, there were some duplicates and some numbers missing. When we put the duplicates together, they were the same shade with two exceptions 702 and 718 where there was a distinct difference.

The wrappers come in two styles, with the numbers and the top and the numbers at the bottom, which causes a problem on a few numbers. They are not as tidy as DMC skeins with more loose ends and the floss does feel softer. It may be a little more difficult to separate into two strands.

Anne stitched her Alpaca design beside the original DMC version for comparison. The DMC is on the top. This design has a lot of shades and although some are a bit different, the finished embroidery is pretty similar.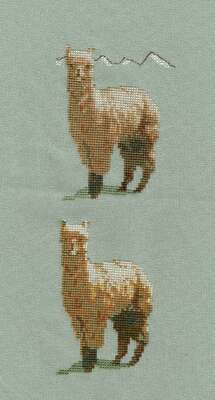 Is it worth changing? They are certainly very much cheaper and cover as well. We didn't test for colour fastness. However if you need another skein, there's a long wait and no guarantee of an exact match.
by Anne Peden on Sun, 21 Mar 2021, 19:23