Witching Hour Ornament by the Prairie Schooler
This cute design took only a couple of evening to stitch. Since I wanted to make it into a Halloween card, I used 28 count 10 centimetres wide linen band by Rico Design in natural. The edges are already finished so less of a problem to mount.

It's stitched in only two shades of DMC stranded cottons, very dark brown and orange but I decided to replace the orange with glow-in-the-dark DMC Light Effects floss E940. It's a little more difficult to work with than stranded cottons but I only used it for a few stitches. It does glow slightly but it has to be in the pitch black.

I hope our granddaughter likes it.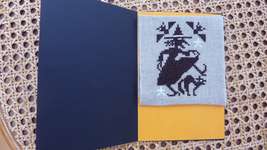 by Anne Peden on Fri, 30 Oct 2015, 18:25