Review of Believe by Designs Works
A pretty little design of the word with fairies and beads.

The pattern advises running cold water over the darker red and blue shades of floss because they may not be colourfast. I wondered about using vinegar to fix the colour but decided to play it safe. As it was the colours didn't run at all.

The threads were already on the shade card in the same order as the key but no floss numbers are given even for comparison just colour names. I was a bit worried about mixing them up after I'd removed some to rinse so I took a photo. Even then I wasn't convinced about where to place them on the card. Only one shade dark lavender didn't seem to be correct but it matched the photo.

I began in the centre with the whole cross stitch of the word. That and the star shapes were easily worked. The little fairies with partial cross stitch, backstitch and french knots were more intricate to work but not too difficult.

That left the beads which are sewn on with a single strand in a similar shade using the beading needle provided. There was lots of leftover floss in all the shades, the least in the brown of the backstitch but still ample.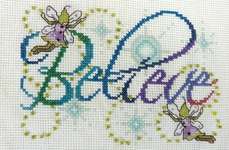 The whole design was worked in less than a week and the finished embroidery fits a standard photo frame of 7 by 5 inches. Imagine, Dream and Hope are from the series with the words in the same shades and there are other series in similar style but different colours Faith and Love, Family and Friends so if you like this idea there are lots of others to choose from.
by Anne Peden on Fri, 21 Aug 2015, 09:04