Assisi Embroidery
Assisi embroidery comes from the Italian town of that name and was once used to decorate ecclesiastical linens.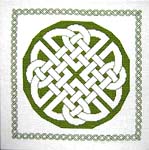 In this form of embroidery the motif is left unworked and only the outline and background are stitched. The outline is worked first in double running or Holbein stitch and of course care must be taken not to have threads or ends trailing over the areas which are not to be stitched. The background is then filled in with cross stitch and traditionally the designs are worked in steps rather than diagonals so that all the cross stitches are whole. The original designs were worked in blue or rust backgrounds with black outlines and using natural or cream fabric.

Today Assisi work is used for linens, furnishings and even on clothes. Since this is suited to strong shapes it seems an ideal way to stitch bold geometric designs such as knots and we have designed two examples. With a green background the Celtic knot stands out well and the Turkish design traditionally used on plates seemed particularly suited to blue. These square designs can be worked over 11 or 14 count and could be used for cushions or make striking framed pictures. Both are available on 28 count evenweave or as chart only.

To see this design click here.

by Arts and Designs on Tue, 18 Sep 2007, 09:10