An Introduction to Bargello
There are lots of names for this style of canvas work including Florentine embroidery, Irish stitch and Hungarian stitch showing that this popular stitch has travelled and been adapted to suit the style of the time and place.

Flame stitch is a very descriptive name for one version where points and gradual shading remind us of a fire. But there are few rules and this style of canvas work needs little practice before the stitcher can design and create very individual items.

Worked in straight stitches and usually in one direction, adjoining stitches should overlap by at least half of the length of a stitch, so that if the pattern is being worked over six canvas threads you would not move up or down more than three. The traditional flame would be the best place to start with where each stitch is the same length and the pattern is set by the first row and then following rows are exactly the same but in different colours or shades.

A colour wheel will be a useful aid when choosing colours, two directly opposite colours such as red and green or yellow and purple will make the brightest finished article. Work dark to light in one colour followed by dark to light in the other or dark to light followed by light to dark to give a different effect. More subtle designs can be worked by choosing shades from one area of the colour wheel or work entirely in pastels or dark shades the possibilities are endless.

The flame stitch pattern is useful for all sorts of articles from spectacle cases to cushions and the article can be worked very quickly. With larger pieces, it is best to work on a frame to keep the canvas straight and care must be taken when making up as canvas does have a tendency to fray.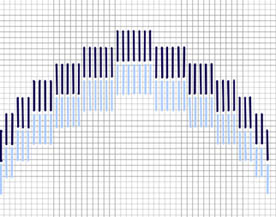 The example shown was used to make a simple curtain tie back and worked in four shades of blue. In this case the stitching was worked in six strands of stranded cottons over 20 count double canvas. The finished embroidery was back with plain blue cotton and loops were crocheted at each end. This was worked to co-ordinate with a large project a dressing table stool. Add a few stitches to the width and back with velvet and make a stylish spectacle case.

Good fun and quick to work, Bargello will continue to be a favourite for generations to come.

by Arts and Designs on Wed, 17 Sep 2008, 19:11