Outline stitches in Blackwork
Until recently I used backstitch to outline areas in blackwork. Then I tried out one of Classic Embroidery's designs The Little Owl and to make it reversible I had to use double running stitch.

I think I won't go back to using backstitch as the finished result with double running stitch is finer. See my illustration with the double running stitch above the backstitch.

I work large areas and the first time round is a bit tricky to keep track but then it's much easier to complete with the intermediate running stitches so probably just as quick to stitch.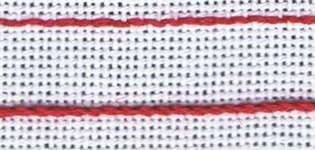 by Anne Peden on Fri, 27 May 2016, 10:27