Field of Daisies and Honeycomb Aida by MP Studios
Having decided not to stitch the honey bee on wood as the kit came, it seemed a shame to waste the materials.

MP studios Honeycomb 14 count Aida seemed ideal for the design so I used that. I worked in two strands throughout, some in the whole cross stitch and some in half cross stitch. An interesting feature is the half cross stitch bottom left to top right on the left wing and bottom right to top left on the right wing.

The fabric ironed well and retained its stiffness. The honeycomb background is more hinted at rather than realistic and sets off the design well. It would be a good choice for other 'bee' designs.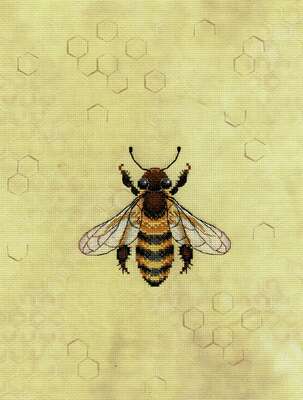 by Anne Peden on Sat, 26 Jun 2021, 17:54