DMC Coloris
We thought we'd try a design in the exciting new Coloris by DMC.

Since it has radical colour changes rather than subtle, it seemed like it might be suitable for Assisi work. I started with a simple shape of a ladybird with large areas to fill in cross stitch and of course completed both halves of each cross as I went. I decided on 4516 Black Forest and worked on antique white evenweave.

You can see from the right hand side of the finished embroidery that the outcome is rows of colour rather than blotches. It reminded me of knitting in random dyed wool.

I tried a different approach on the left hand side of the ladybird. Rather than starting at the centre which would mean referring to the chart constantly, I stitched the perimeter and then worked inwards following the shape. I think this gives more interesting blobs of colour.

Perhaps if you've tried out this floss you have other ideas? Please let us know.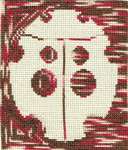 by Anne Peden on Tue, 17 May 2016, 19:54