Autumn Walk by Rose Swalwell
This long stitch kit is worked in Anchor tapestry wools which come in cut lengths and skeins. Each colour starts with a knot to the front of the canvas which is later trimmed. The advice is to work through adjacent areas so that one side of each stitch is into a shared hole and the other into an empty hole. So different from the advice for silken long stitch.

The stitching was fine although I was a little short on three colours. That could have been because I looped them over the back of the work and didn't finish off and start again, so possibly my fault.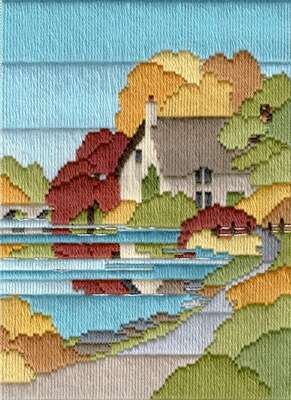 I finished off with a little silver floss in horizontal long stitches. The metallic floss immediately unravelled but still had the desired effect. There was another length unused so I could have tried again.

Bothy Threads, who now manufacture these kits are very good at sending extra floss very promptly if required.

by Anne Peden on Mon, 26 Apr 2021, 13:15