What Colour Is Blackwork?
Blackwork is over four hundred years old and is thought to have originated in Spain.

It's possible that it had been imported into Spain by the Moors from north Africa even earlier. Blackwork became very popular in Tudor England where it was used widely on their elaborate dresses, ruffs, cuffs, sleeves etc. The Elizabethans also used embroidery and blackwork in their lavish furnishings, in bed hangings and curtains.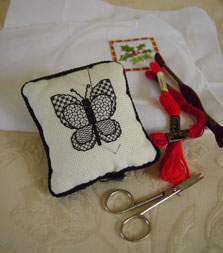 The earliest blackwork was made by working black silk on very fine fabric. The fabric must have an evenweave to suit the geometric stitches. Even in Elizabethan times blackwork was not just black - gold threads, beads and sequins often added a little sparkle to the stitching.

Blackwork is necessarily stylised and strong shapes are filled with different patterns, many based on backstitch. Cross stitch, satin stitch, beading and french knots can also be used. When creating a design you should plan to use three densities of stitching: light, medium and dark. There will also be areas of unstitched fabric. This doesn't mean that you are restricted to three stitch patterns - some designs have many more - but equally you don't have to have as many as three stitch patterns. At a recent exhibition of needlework I saw some very fine work using the same pattern but varying the density by varying the number of strands of cotton used.

So what colour is blackwork? The answer is that it can be any colour you want. Henry Ford would not have approved. For example, I have worked snowflakes with white on dark blue using blending filament and beads. I have also used red, blue, purple, brown and turquoise in my series of national costume blackwork designs. The main principle is to use predominantly one colour of thread which contrasts with the colour of the fabric. I have never seen subtle shading, but why not? It would be an interesting effect.

by Anne Peden on Sun, 24 Sep 2006, 11:02