Nasturtium Fan by Needleart World
This was my second Needleart World kit but much smaller than the last and on 14 count Aida.

The design is accurately printed on Aida with grid and key at the side of the fabric. The fabric is overlocked all around so no delay in starting to stitch. There is also a full colour chart to refer to. You shouldn't have to use that to work the whole cross stitch but it is necessary for the added backstitch.

The cross stitch was easy to work quicker for the blocks of colour than the picture. Some backstitch is worked over or partially over the cross stitch and that's where the chart became essential as the lines showing it had been covered by floss.

The exciting bit is when you wash out the colour. This worked well in the stitched area but there are still remnants of the print on the outer areas which was surprising since everything on my first Needleart World kit Koi Carp washed out. It doesn't matter once the embroidery is mounted.

There was lots of leftover floss and the design was quick to work.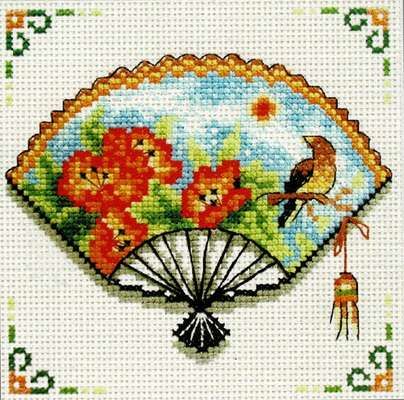 by Anne Peden on Fri, 02 Aug 2019, 16:11