Rico Design Hooded Baby Towels
These baby towels make lovely gifts and can be used from birth and for many years. Made of 100% cotton, they are soft and fluffy and have a hood attached on one side with a 14 count Aida band.

I used one of Rico Design booklets especially for these towels. There are many designs to choose from in four booklets.

I had already stitched polar bears and puppies and this time decided on whales on a mint towel. The good scale charts are in full colour and easy to follow. The design can easily be stitched in under three weeks.

One problem is probably unavoidable. I prefer to stitch with a hoop, but it's difficult to use one for the last motif at either end of the Aida band since the seam gets in the way. I ended up stitching these without tension and although they probably look exactly the same to anyone else, I can see they are not as neat.

These towels will be washed many times so I'm very careful to work in the floss ends well, perhaps taking more stranded cotton than indicated. Of course, cottons are cheap compared to the fabric used and to the stitcher's time so it really isn't worth skimping on it.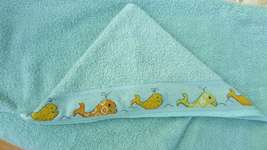 by Anne Peden on Fri, 25 Sep 2015, 10:07