Arts and Designs

Thread a little happiness ...
Arts and Designs
Thread a little happiness ...
Embroidery Kits by Permin of Copenhagen
Profile - Permin of Copenhagen
Permin of Copenhagen were established in 1854 by Christian Permin and each year they produce a huge range of elegant cross stitch, hardanger, needlepoint/tapestry and embroidery kits which are exported to 70 countries throughout the world.

They have a large catalogue of traditional designs, including a collection of samplers which includes authentic patterns from previous centuries. Permin kits come with black and white charts and instructions in several languages, including English of course! Kits include DMC Mouliné yarn, fabric, needle, colour chart and graph/pattern.

Floral design is well represented with dozens of patterns in a variety of styles and media.

There is a wide range of table linen, some in cutwork and hardanger, some with stamped cotton and some in cross-stitch and embroidery.

In fact, Permin have one of the best selections of Christmas items of all -Christmas cards, stockings, advent calendars, tree skirts, towels and table linen, and also some junior cross stitch kits.

Permin also produce their own fabric with colours often requested by their US partners Wichelt Import Inc. These are used extensively by designers Mirabilia, Nora Corbett and The Prairie Schooler.

They have a wide range of bellpull hangers in brass, wood and laquered steel all manufactured by a local Danish craftsman.
Classic Red Table Cover - Hearts and Flowers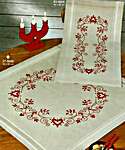 Christmas Roses and Ivy Table Covers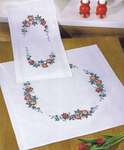 Christmas Angel Table Mats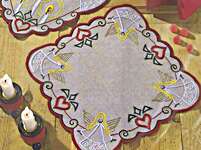 Christmas in Red Table Centre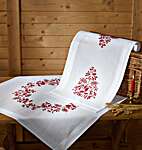 Elf Collection Large Table Cover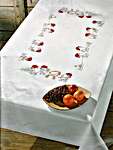 Classic Red Table Cover - Hearts and Swirls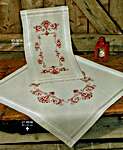 Mauve Daisies Table Cover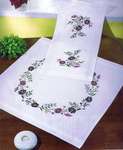 Crocus, Winter Jasmine and Catkins Table Covers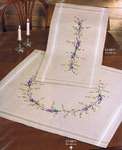 La Belle Epoch Table Covers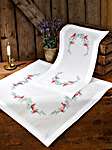 Harebell Table Covers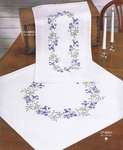 Christmas Angels with Trumpets Table Covers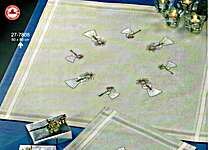 Poppies Table Centre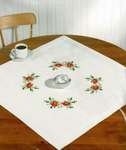 Christmas Candles and Poinsettia Table Runner - Cross Stitch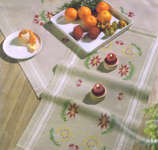 Oval of Pink Roses Table Runner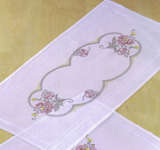 Blue Flowers Table Runner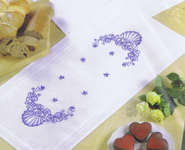 Elf Table Covers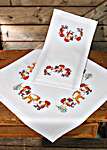 Little Elves Table Cover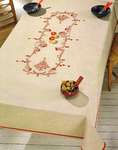 Sprays of Red Roses Table Covers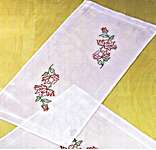 African Marguerite Runner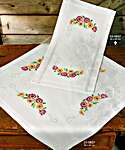 Blue Posy Table Runner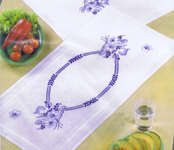 x
Advanced Search
| | |
| --- | --- |
| Search for: | |
| Match: | Any termsAll terms |
| Section: | |
| Sort By: | |

Please wait ...
Important - Non-UK Orders
Hide