Welcome to June's Newsletter!
In this issue:
New Kits from Vervaco, Merejka, Bothy Threads and Heritage Crafts

Patterns and Charts from Shannon Christine, Riverdrift House, Lesley Teare and Nora Corbett

Fluffy Floss from Rainbow Gallery
Kits ...
online catalogues
so please do let us know if you'd like any of the kits you see there.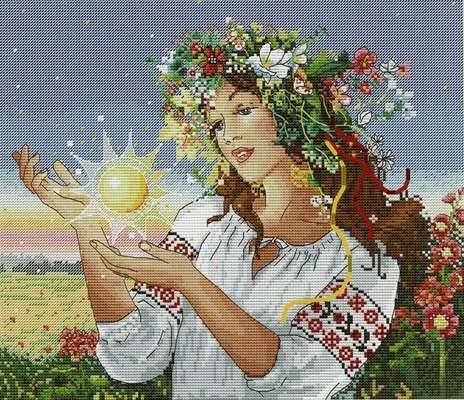 We now have kits from another European company -
summer collection
with more
Wrendale Designs
kits, four colourful stylised ladies from the artwork of
Mila Marquis
and three pretty fairies from the artwork of
Sue Waddicor
.
The latest Elegance lady from Heritage Crafts is John Clayton's
Shannon Christine
is the publisher of patterns by
Shannon Wasilief
, a Canadian designer, who has lovely ladies finished with metallic gold floss and beads.
We have for a while offered colourful sampler kits by
Riverdrift House
and we've now added
angels and fairies
.
The two new
Nora Corbett Butterfly Misses
,
Miss Black Swallowtail
and
Miss Aurora Morpho
flew off the shelves in May. We will be re-ordering as soon as possible so please let us know if you would like either of them so that we can be sure to order enough for everyone.
If you're looking for
Bargain Basement
has Cats and Dogs kits at half price for the month of June.
And Finally ...
We're off on holiday (vacation) this month and as usual we'll have our 'skeleton staff' to look after your orders. Kits, charts and most supplies (except those that need special packing) will still be available.
Let's hope it doesn't 'rain cats and dogs' in Brittany, France - where we're going.
Our title is from a poem by the American poet James Whitcomb Riley (1849 1916) who wrote mostly in his Midwest dialect.

Tell you what I like the best --
'Long about knee-deep in June,
'Bout the time strawberries melts
On the vine, -- some afternoon
Like to jes' git out and rest,
And not work at nothin' else!
We wish you a warm, happy and rain-free June wherever you may be!