A warm welcome to our October newsletter.
This month:
Drawing the Impossible

Vervaco Autumn Collection

Bothy Threads Autumn Collection

New designs by Nora Corbett and Mirabilia

Christmas is a-Comin'
Drawing the Impossible
We were lucky to visit an amazing exhibition of the work of dutch artist
M C Esher
in Edinburgh a couple of weeks ago. The show is now at the Dulwich Gallery in London for three months and there's another show at the Dali, St Petersburg, Florida and one at North Carolina Museum of Art, 2110 Blue Ridge Road, Raleigh, NC 27607. If you're a fan, keep an eye on the Escher web site
this kit from Permin of Copenhagen
.
New Autumn Collections
Autumn Collection
. We have many of the new kits in stock and you can see the whole range in our
Bewitching Pixies
seem ideal with Halloween coming up. The
Garden Party
two ladies in evening dress with a small bird. To make it easier for you to assemble the materials we can supply all the speciality floss, an embellishment pack and a piece of the recommended fabric too!
Christmas is a-Comin'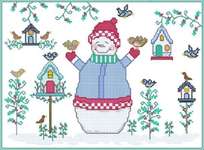 Christmas is always just around the corner, and we've even started shopping (well, two presents). Making your own cards and gifts always takes time so we have some new Christmas designs.
The first is a
Rose Swalwell of Derwentwater Designs
,
Sleigh Belle
- the latest kitten from Heritage Crafts and a cute
Santa and Mrs Claus cartoon picture from Vervaco
.
And Finally ...
Well, we've talked about impossible pictures but so far we haven't had a poem, so here's the conclusion of the
Impossible Poem
by Hardik Vaidya ...
But let us have the beat, the missed beat, the arrhythmic murmur,
The lost feel, the ecstasy of what we think is life,
Let us all for once agree to a distilled definition of freedom of our souls,
No flags, no boundaries, just us, lovers all around.
Let's make the impossible possible.