Having tried out Kreinik #4 braid and Rainbow Gallery Petite Treasure braid, I decided to look at a few more gold threads. I used the same design as before a cherub by By the Bay Needleart on 32 count linen.
First I tried out Madeira Metallic a twisted thread which may be split into strands. That just didn't work well at all as it was difficult to split and once split unwound too easily. I'm afraid I gave up with that one.
Then I used Anchor Lamé. The floss comes with twelve loose strands and I worked with three strands. It didn't unravel at all and the only problem was making sure that all three strands were pulled through.
Lastly, (so far) I used two strands DMC Light Effects E3821. That was the most difficult to use and split and unwound a lot. I didn't condition it but then I didn't use conditioner with any of the others. Finally, in frustration I split it to one strand doubled. That helped a bit but by that time I was working with very short lengths.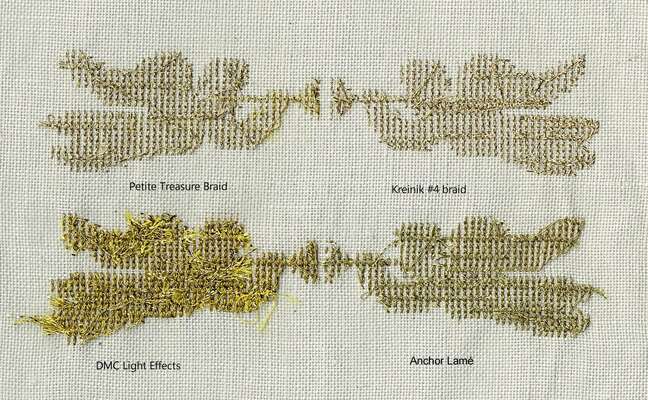 The Anchor Lamé and DMC Light Effects covered well and the problems aren't apparent from the front so I've added an image of the reverse. I'm a bit embarrassed about how untidy the back of my work is.