The astrologers tell us that whoever is determined to achieve something can make significant progress during November. With Thanksgiving in the US and Christmas a-comin', it's probably just as well as there's lots to do!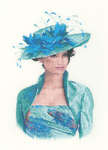 Thea Gouverneur
has produced
Christmas table covers from Rico Design
. These are hemmed and stamped with the designs for surface embroidery. Also new from Rico are
Bug Babies
hard to resist, especially if you have any babies in your family!
Bothy Threads have two attractive and colourful
Nativity
, a cartoon scene from the artwork of
Julia Rigby
all the animals and even the baby Jesus are smiling.
If you like owls and especially the cartoon variety there are several to choose from in
Hootie
.
We have two lovely new designs from
sleeping babies with toys
.
Carrying on with the fairy tale theme the latest design from
Miribilia
is
Elves` House
a June Armstrong design by
Bothy Threads
is on
special offer
this Christmas while stocks last.
Reduced by a further 20%
on our already low price. The busy elves have a wooden roof with a snow covered roof decorated for the big day.
And finally, in case you have a few spare moments this month maybe now's the time to write that novel you always wanted to! Visit the website at
https://nanowrimo.org/
to sign in and participate. Whatever you do, have a safe and pleasant month!