Welcome to freezing February - or feverish February - depending on where you live.
January has been a really quiet month for new needlecraft releases. The main trade shows are coming up in February and March and most companies are saving their new releases for those. So next month's newsletter should have a lot more er... news.
Kits and Charts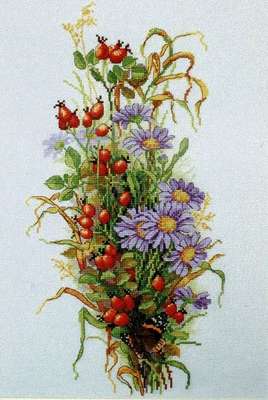 Eastern Europe is a rising star in needlework circles and we have been extending our stock of Russian kits with more from
Miss Ginko and Glittering Leaves
are in reds and gold shades and have added beads.
Chinese New Year is almost upon us (although I have to admit it's not something we celebrate ourselves) and Anne has produced some Chinese knot designs - in red, of course. These are available as
downloadable charts
.
Bargain Basement
February's theme is
Landscapes
- hot, cold and everything in between.
There are landscape picture kits in various styles in the Bargain Basement for the month of February and as usual at half previous low price while stocks last.
And Finally ...
While North America has been freezing at -35C we hear that Australia has seen feverish heat at +45C. Here in Scotland we're pretty much in the middle but that doesn't stop us complaining.
Japanese poet
Kamijima Onitsura (1660-1738)
had this to say about it:
«
While it's summer people say
Winter is the better season.
Such is human reason.
»
We hope your weather is what you wish for.